Opel Corsa: Wheels and tyres / Tyre pressure
Check the pressure of cold tyres at least every 14 days and before any long journey. Do not forget the spare wheel. This also applies to vehicles with tyre deflation detection system.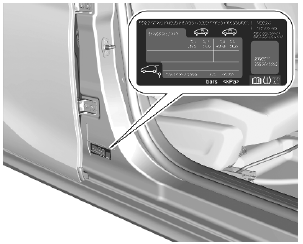 The tyre pressure information label on the right door frame indicates the original equipment tyres and the correspondent tyre pressures.
The tyre pressure data refers to cold tyres. It applies to summer and winter tyres.
Always inflate the spare tyre to the pressure specified for full load.
Incorrect tyre pressures will impair safety, vehicle handling, comfort and fuel economy and will increase tyre wear.
Tyre pressures differ depending on various options. For the correct tyre pressure value, follow the procedure below:
Identify the engine identifier code. Engine data.
Identify the respective tyre.
The tyre pressure tables show all possible tyre combinations.
For the tyres approved for your vehicle, refer to the EEC Certificate of Conformity provided with your vehicle or other national registration documents.
The driver is responsible for correct adjustment of tyre pressure.
Warning
If the pressure is too low, this can result in considerable tyre warmup and internal damage, leading to tread separation and even to tyre blow-out at high speeds.
Warning
For specific tyres the recommended tyre pressure as shown in the tyre pressure table may exceed the maximum tyre pressure as indicated on the tyre.
Never exceed the maximum tyre pressure as indicated on the tyre.
Temperature dependency
The tyre pressure depends on the temperature of the tyre. During driving, tyre temperature and pressure increase. Tyre pressure values provided on the tyre information label and tyre pressure chart are valid for cold tyres, which means at 20 °C.
The pressure increases by nearly 10 kPa for a 10 °C temperature increase. This must be considered when warm tyres are checked.
Winter tyres Winter tyres improve driving safety at temperatures below 7 °C and should therefore be fitted on all wheels. In accordance with country-specific regulations, affix the speed sticker in the driver's field of view...
The tyre deflation detection system continually checks the rotation speed of all four wheels and warns on low tyre pressure condition once vehicle is driving...
Other information:
The current park assist manoeuvre is cancelled via the button to return to the previous screen in the Info Display. To deactivate the system completely, press in the centre console. The system is deactivated automatically: if the ignition is switched off if stalling the engine if no manoeuvre is started within 5 minutes of selection of the type of manoeuvre after a prolonged stop o..
Caution If the vehicle is equipped with alloy wheels, tighten the wheel bolts manually at least for the first five turns. There are two different types of wheels with two different bolts and tightening torques. Tightening torque for alloy wheels is 115 Nm. Tightening torque for steel wheels: 15" steel wheel bolts should been tightened with 100 Nm. 16" steel wheel bolts should been t..