Opel Corsa: Speed limiter / Activation of the functionality
Setting speed by the driver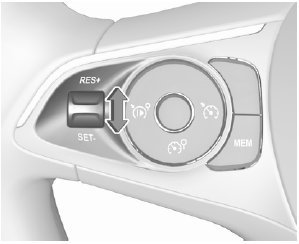 The preset maximum speed can be set by pressing thumb wheel to RES/+ to increase or SET/- to decrease the desired maximum speed. Move thumb wheel repeatedly to change speed in small steps, move and hold to change speed in large steps.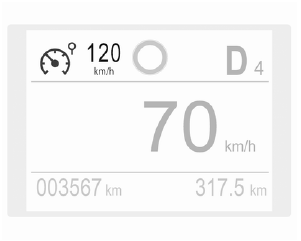 Speed value is indicated in the Driver Information Centre.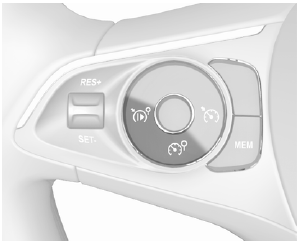 Press

to activate speed limiter.
Adopting speed by the speed limit recognition
The intelligent speed adaptation informs the driver when a speed limit is detected by the speed limit recognition. The detected speed limit can be used as new value for the speed limiter.
Using the camera at the top of the windscreen, this system detects and reads speed limit and end of speed limit signs.
If the speed limiter is active, the recognised speed limit will be displayed in the Driver Information Centre and MEM illuminates if the difference between set speed and speed limit is more than 9 km/h.
Press MEM on the steering wheel to request saving of the suggested speed limit.
Press MEM on the steering wheel once more to confirm and save the new speed setting.
This speed is the new value for the speed limiter.
The function can be activated or deactivated in the vehicle personalisation.
In the event of an emergency, it is possible to exceed the speed limit by depressing the accelerator pedal firmly to the final point. In this case, the preset speed value flashes...
Other information:
Enables operation of the following functions via the use of the remote control buttons: central locking system anti-theft locking system anti-theft alarm system tailgate unlocking and opening power windows mirrors folding vehicle locator lighting peripheral lighting The remote control has a range of up to 100 m, but may also be much less due to external influences...
Battery voltage When the vehicle battery voltage is running low, a warning message will appear in the Driver Information Centre. When the vehicle is being driven, the load reduction function temporarily deactivates certain functions, such as the air conditioning, the heated rear window, heated steering wheel, etc...