Opel Corsa: Brakes / Antilock brake system
Antilock brake system (ABS) prevents the wheels from locking.
ABS starts to regulate brake pressure as soon as a wheel shows a tendency to lock. The vehicle remains steerable, even during hard braking.
ABS control is made apparent through a pulse in the brake pedal and the noise of the regulation process.
For optimum braking, keep the brake pedal fully depressed throughout the braking process, despite the fact that the pedal is pulsating. Do not reduce the pressure on the pedal.
When braking in an emergency, the hazard warning flashers are switched on automatically depending on the force of deceleration. They are switched off automatically the first time you accelerate.
After starting off, the system performs a self-test which may be audible.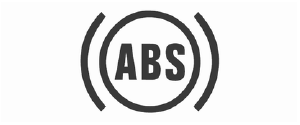 Fault
Warning
If there is a fault in the ABS, the wheels may be liable to lock due to braking that is heavier than normal. The advantages of ABS are no longer available. During hard braking, the vehicle can no longer be steered and may swerve.
Have the cause of the fault remedied by a workshop.
Warning Before leaving the vehicle, check parking brake status. Control indicator illuminate constantly when electric parking brake is applied. Manual parking brake Warning Always apply parking brake firmly without operating the release button, and apply as firmly as possible on a downhill or uphill slope...
Other information:
Locks The locks are lubricated at the factory using a high quality lock cylinder grease. Use a de-icing agent only when absolutely necessary, as this has a degreasing effect and impairs lock function. After using a de-icing agent, have the locks regreased by a workshop...
Danger Before refuelling, switch off ignition and any external heaters with combustion chambers. Follow the operating and safety instructions of the filling station when refuelling. Danger Fuel is flammable and explosive. No smoking. No naked flames or sparks...