Opel Corsa: Keys, locks / Automatic locking
Automatic locking after driving off
This system allows automatic locking of the doors and tailgate as soon as the speed of the vehicle exceeds a certain speed.
If one of the doors or the tailgate is open, the automatic central locking does not take place. This is signalled by the sound of the locks rebounding, accompanied by illumination of
in the instrument cluster, an audible signal and the display of an alert message.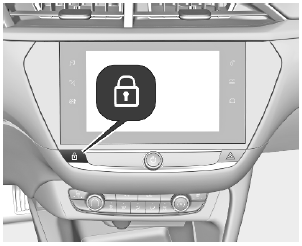 This function can be activated or deactivated at any time. With the ignition on, press

until an audible signal starts and a corresponding message is displayed.
The state of the system stays in memory when switching off the ignition.
Automatic relock after unlocking
This feature automatically locks all doors, load compartment and fuel filler flap a short time after unlocking with the remote control or electronic key, provided no door has been opened.