Opel Corsa: Automatic transmission / Electronic driving programmes
Following a cold start, the operating temperature programme increases engine speed to quickly bring the catalytic converter to the required temperature.
Special programmes automatically adapt the shifting points when driving up inclines or down hills.
In snowy or icy conditions or on other slippery surfaces, the electronic transmission control enables the driver to select manually first, second or third gear for starting off.
Kickdown
Pressing down the accelerator pedal beyond the kickdown detent will lead to maximum acceleration independent of selected driving mode. The transmission shifts to a lower gear depending on engine speed.
Drive modes
Four different drive modes are selectable:
Normal mode
Comfort mode
Sport mode
Eco mode
Each drive mode corresponds to a different vehicle setting.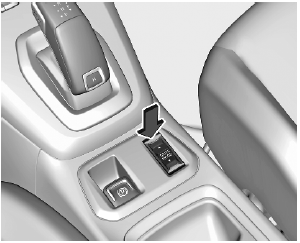 To seletct the respective drive mode, use the shown toggle switch.
Normal mode
The settings in this mode are set by default. Everytime the ignition is switched on, this mode is selected.
Comfort mode
Allows more comfortable driving and softer suspension.
Sport mode
The settings in this mode allow more dynamic driving. The vehicle's dynamic parameters can be displayed in the Driver Information Centre.
Eco mode
Reduces fuel consumption by optimising the operation of the heating and air conditioning and, depending on version, the accelerator pedal, the automatic gearbox and the gear shifting indicator.