Opel Corsa: Controls / Power outlets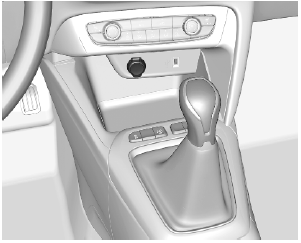 A 12 V power outlet is located in the centre console.
Do not exceed the maximum power consumption of 120 W.
With ignition off, the power outlets are deactivated. Additionally the power outlets are deactivated in the event of low vehicle battery voltage.
Electrical accessories that are connected must comply with the electromagnetic compatibility requirements laid down in DIN VDE 40 839.
Do not connect any current-delivering accessories, e.g. electrical charging devices or batteries.
Do not damage the outlet by using unsuitable plugs.
USB ports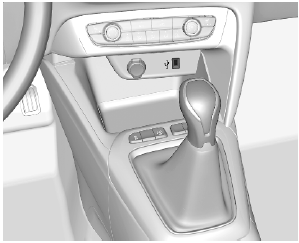 A USB port is located in the centre console.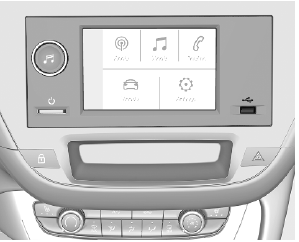 Depending on version, an USB port may be located next to the Info Display.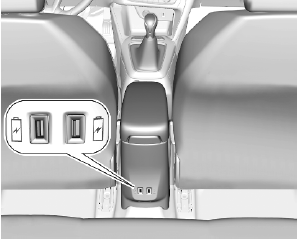 Further USB ports may be located in the rear console.
The slot below the USB ports on the rear side of the storage container is intented to attach an accessory cupholder.
The USB ports are prepared for charging external devices and provide a data connection to the Infotainment system. For further information, see Infotainment manual.
Note
The sockets must always be kept clean and dry.
Outside temperature A drop in temperature is indicated immediately and a rise in temperature after a time delay. Illustration shows an example. If outside temperature drops to a certain temperature, a warning message is displayed in the Driver Information Centre...
Warning Inductive charging can affect the operation of implanted pacemakers or other medical devices. If applicable, seek medical advice before using the inductive charging device...
Other information:
The following instrument cluster is available: Overview Turn lights Seat belt reminder Airbag and belt tensioners Airbag deactivation Charging system Malfunction indicator light Service vehicle soon Stop engine System check Brake and clutch system Electric parking brake Automatic operation of electric parking break off Electric parking brake fault Antilock brake system (ABS) Gear..
Do not start with quick charger. A vehicle with a discharged vehicle battery can be started using jump leads and the vehicle battery of another vehicle. Warning Be extremely careful when starting with jump leads. Any deviation from the following instructions can lead to injuries or damage caused by battery explosion or damage to the electrical systems of both vehicles. Warning Avoid conta..