Opel Corsa: Automatic transmission / Manual mode
Manual mode M can be activated from position D in each driving situation and speed.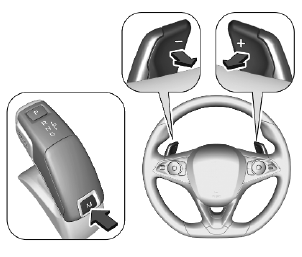 Press button M.
Pull steering wheel paddles to select gears manually.
Pull right paddle + to shift to a higher gear.
Pull left paddle - to shift to a lower gear.
Multiple pulls allow gears to be skipped.
The selected gear is indicated in the instrument cluster.
If a higher gear is selected when vehicle speed is too low, or a lower gear when vehicle speed is too high, the shift is not executed. This can cause a message in the Driver Information Centre.
In manual mode, no automatic shifting to a higher gear takes place at high engine revolutions.
Gear shift indication
The symbol

or

with a number beside it is indicated when gearshifting is recommended for fuel saving reasons.
Shift indication appears only in manual mode.
Following a cold start, the operating temperature programme increases engine speed to quickly bring the catalytic converter to the required temperature...
Other information:
Power seat adjustment Warning Care must be taken when operating the power seats. There is a risk of injury, particularly for children. Objects could become trapped. Keep a close watch on the seats when adjusting them. Vehicle passengers should be informed accordingly...
Light switch Turn light switch: AUTO : automatic light control switches automatically between daytime running light and headlight : sidelights : headlights When switching on the ignition, automatic light control is active. Tail lights Tail lights are illuminated together with low / high beam and sidelights...