Opel Corsa: Appearance care / Floor mats
Warning
If a floor mat has the wrong size or is not properly installed, it can interfere with the accelerator pedal and/or brake pedal, what can cause unintended acceleration and/or increased stopping distance which can cause a crash and injury.
Use the following guidelines for proper floor mat usage.
The original equipment floor mats were designed for your vehicle. If the floor mats need replacing, it is recommended that certified floor mats be purchased. Always check that the floor mats do not interfere with the pedals.
Use the floor mat with the correct side up. Do not turn it over.
Do not place anything on top of the driver side floor mat.
Use only a single floor mat on the driver side.
Do not place one floor mat on top of another.
Inserting and removing the floor mats
The driver side floor mat is held in place by two retainers.
To install the floor mat:
Move the seat backwards as far as possible.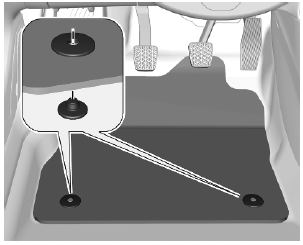 Align slots in the mat with the retainers, as shown.
Push the mat to the floor.
Removing
Move the seat backwards as far as possible.
Remove the mat.
Interior and upholstery Only clean the vehicle interior, including the instrument panel fascia and panelling, with a dry cloth or interior cleaner. Clean the leather upholstery with clear water and a soft cloth...
Other information:
The menus and functions can be selected via the buttons on the indicator lever. Turn the adjuster wheel to select a page in the trip / fuel information menu. Press SET / CLR to confirm or reset a function. Vehicle and service messages are popped up in the Driver Information Centre, if required. Scroll messages by turning the adjuster wheel. Confirm messages by pressing SET / CLR...
Forward collision alert is designed to warn on vehicles, but may react also to other objects. In the following cases, forward collision alert may not detect a vehicle ahead or sensor performance is limited: driving on winding or hilly roads driving during nighttime weather limits visibility, such as fog, rain, or snow the sensor in the windscreen or the radar unit behind the front ..