Opel Corsa: Appearance care / Floor mats
Warning
If a floor mat has the wrong size or is not properly installed, it can interfere with the accelerator pedal and/or brake pedal, what can cause unintended acceleration and/or increased stopping distance which can cause a crash and injury.
Use the following guidelines for proper floor mat usage.
The original equipment floor mats were designed for your vehicle. If the floor mats need replacing, it is recommended that certified floor mats be purchased. Always check that the floor mats do not interfere with the pedals.
Use the floor mat with the correct side up. Do not turn it over.
Do not place anything on top of the driver side floor mat.
Use only a single floor mat on the driver side.
Do not place one floor mat on top of another.
Inserting and removing the floor mats
The driver side floor mat is held in place by two retainers.
To install the floor mat:
Move the seat backwards as far as possible.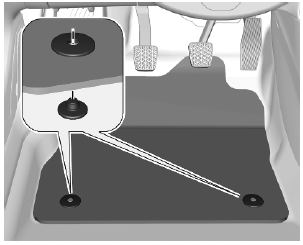 Align slots in the mat with the retainers, as shown.
Push the mat to the floor.
Removing
Move the seat backwards as far as possible.
Remove the mat.
Interior and upholstery Only clean the vehicle interior, including the instrument panel fascia and panelling, with a dry cloth or interior cleaner. Clean the leather upholstery with clear water and a soft cloth...
Other information:
Before attaching a trailer, lubricate the coupling ball. However, do not do so if a stabiliser, which acts on the coupling ball, is being used to reduce snaking movements. During trailer towing do not exceed a speed of 80 km/h. A maximum speed of 100 km/h is only appropriate if an oscillation damper is used and the permissible gross trailer weight does not exceed the vehicle's curb weig..
Warning Only drive with the seat correctly adjusted. Warning Never adjust seats while driving as they could move uncontrollably. Danger Do not sit closer than 25 cm to the steering wheel, to permit safe airbag deployment. Warning Never store any objects under the seats. Sit with buttocks as far back against the backrest as possible. Adjust the distance between the seat and the pedals..