Opel Corsa: Appearance care / Floor mats
Warning
If a floor mat has the wrong size or is not properly installed, it can interfere with the accelerator pedal and/or brake pedal, what can cause unintended acceleration and/or increased stopping distance which can cause a crash and injury.
Use the following guidelines for proper floor mat usage.
The original equipment floor mats were designed for your vehicle. If the floor mats need replacing, it is recommended that certified floor mats be purchased. Always check that the floor mats do not interfere with the pedals.
Use the floor mat with the correct side up. Do not turn it over.
Do not place anything on top of the driver side floor mat.
Use only a single floor mat on the driver side.
Do not place one floor mat on top of another.
Inserting and removing the floor mats
The driver side floor mat is held in place by two retainers.
To install the floor mat:
Move the seat backwards as far as possible.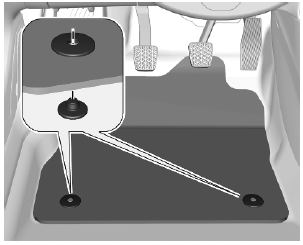 Align slots in the mat with the retainers, as shown.
Push the mat to the floor.
Removing
Move the seat backwards as far as possible.
Remove the mat.
Interior and upholstery Only clean the vehicle interior, including the instrument panel fascia and panelling, with a dry cloth or interior cleaner. Clean the leather upholstery with clear water and a soft cloth...
Other information:
The vehicle battery is maintenancefree provided that the driving profile allows sufficient charging of the battery. Short-distance-driving and frequent engine starts can discharge the battery. Avoid the use of unnecessary electrical consumers. Batteries do not belong in household waste. They must be disposed of at an appropriate recycling collection point. Laying up the vehicle for more ..
In left-hand drive vehicles, the fuse box is behind a cover in the instrument panel. Disengage cover at the bottom side and remove. In right-hand drive vehicles, the fuse box is located behind a cover in the glovebox. Open the glovebox and remove the cover. No. Circuit 1 Radar / Interior mirror 3 Inductive charging 4 Horn 5 Windscreen wa..