Opel Corsa: AdBlue / Refilling AdBlue
Caution
Only use AdBlue that complies with European standards DIN 70 070 and ISO 22241-1.
Do not use additives.
Do not dilute AdBlue.
Otherwise the selective catalytic reduction system could be damaged.
Note
Whenever a filling pump with a nozzle for passenger cars is not available at a filling station, use only AdBlue bottles or canisters with a sealed refill adapter for refilling, to prevent splashback and overspill, and in order to ensure that the fumes from the tank are captured and do not emerge. AdBlue in bottles or canisters is available in many filling stations and can be purchased e.g. at Opel dealers and other retail outlets.
Since AdBlue has a limited durability, check the date of expiry before refilling.
Note
Refill the tank to a level of at least 5 l to ensure that the new AdBlue level is being detected. In case AdBlue refill is not successfully detected:
Continuously drive the vehicle for 10 min making sure that vehicle speed is always higher than 20 km/h.
If AdBlue refill is detected successfully, AdBlue supplydriven warnings or limitations will disappear.
If AdBlue refill is still not detected, seek the assistance of a workshop.
If AdBlue must be refilled at temperatures below -11 °C, the refilling of AdBlue may not be detected by the system. In this event, park the vehicle in a space with a higher ambient temperature until AdBlue is liquified.
Note
When unscrewing the protective cap from the filler neck, ammonia fumes may emerge. Do not inhale as the fumes have a pungent smell. The fumes are not harmful by inhalation.
The AdBlue tank should be filled completely. This must be done if the warning message regarding prevention of an engine restart is already displayed.
The vehicle must be parked on a level surface.
The filler neck for AdBlue is located behind the fuel filler flap.
The fuel filler flap can only be opened if the vehicle is unlocked.
Switch off the ignition.
Close all doors to avoid ammonia fumes entering the interior of the vehicle.
Release the fuel filler flap by pushing the flap.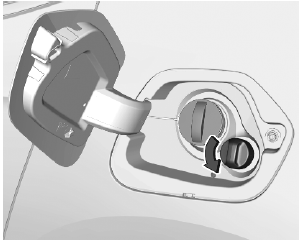 Unscrew protective cap from the filler neck.
Open AdBlue canister.
Mount one end of the hose on the canister and screw the other end on the filler neck.
Lift the canister until it is empty, or until the flow from the canister has stopped.
Place the canister on the ground to empty the hose, wait 15 seconds.
Unscrew the hose from the filler neck.
Mount the protective cap and turn clockwise until it engages.
Note
Dispose of AdBlue canister according to environmental requirements. Hose can be reused after flushing with clear water before AdBlue dries out.