Opel Corsa: Lane keep assist / Activation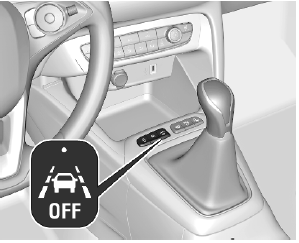 If the system is activated, the LED in the button

is not illuminated. To activate the system when the system is deactivated, press

.
The system is operational at vehicle speeds between 65 km/h and 180 km/h and if lane markings are detectable. The driver must hold the steering wheel. The electronic stability control system must be activated.
The control indicator

flashes yellow during trajectory correction.
If the driver wishes to maintain the trajectory of the vehicle, he can interrupt the correction by keeping a firm grip on the steering wheel, e.g. during an avoiding manoeuvre. The correction is interrupted if the turn lights are operated. If the vehicle is equipped with active side blind spot detection, the interruption of the lane correction might be cancelled.
There is no correction triggered when the turn lights are operated and during few seconds after turn lights have been switched off.
If the system detects that the driver is not holding the steering wheel permanently, it interrupts the correction. A warning message in the Driver Information Centre accompanied by a warning chime alerts the driver when immediate driver´s action is required.
Lane keep assist supports the driver to avoid unintended leaving of the lane. The front camera observes road edges, as well as the lane markings between which the vehicle is driving...
To deactivate the system, press and hold . Deactivation of the system is confirmed by the illuminated LED in the button and illuminates yellow in the instrument cluster...
Other information:
Heated rear window Operated by pressing together with heated exterior mirrors. Heating works with the engine running and is switched off automatically after a short time. Depending on climate control system, is located at a different position. Vehicles with heating and ventilation system or air conditioning system Vehicles with electronic climate control system Sun visors The sun visors ca..
We recommend the use of genuine parts and accessories and factory approved parts specific for your vehicle type. We cannot assess or guarantee reliability of other products - even if they have a regulatory or otherwise granted approval. Any modification, conversion or other changes made to standard vehicle specifications (including, without limitation, software modifications, modificatio..