Opel Corsa: Warning lights, gauges and indicators / Airbag and belt tensioners. Airbag deactivation
Airbag and belt tensioners

illuminates red.
When the ignition is switched on, the control indicator illuminates for some seconds. If it does not illuminate, does not extinguish after some seconds or illuminates whilst driving, there is a fault in the airbag system. Seek the assistance of a workshop. The airbags and belt pretensioners may fail to trigger in the event of an accident.
Deployment of the belt pretensioners or airbags is indicated by continuous illumination of

.
Warning
Have the cause of the fault remedied immediately by a workshop.
Airbag deactivation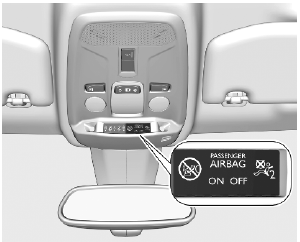 ON illuminates yellow.
The front passenger airbag is activated.

OFF illuminates yellow.
The front passenger airbag is deactivated.
Turn lights illuminates or flashes green. Illuminates briefly The parking lights are switched on. Flashes Turn lights or the hazard warning flashers are activated...
Charging system illuminates red. Illuminates when the ignition is switched on and extinguishes shortly after the engine starts. Illuminates when the engine is running Stop, switch off engine...
Other information:
Turn key: 0 : ignition off: some functions remain active until key is removed or driver's door is opened, provided the ignition was on previously 1 : ignition on power mode: ignition is on, diesel engine is preheating, control indicators illuminate and most electrical functions are operable 2 : engine start: release key after engine has been started Steering wheel lock Remove key from ig..
Fault In the event of a fault, illuminates a message is displayed in the Driver Information Centre. Electronic transmission control enables only third gear. The transmission no longer shifts automatically. Do not drive faster than 100 km/h. Have the cause of the fault remedied by a workshop. Interruption of power supply In the event of an interruption of power supply, the selector lever ..