Opel Corsa: Vehicle checks / Brakes. Brake fluid
Brakes
In the event of minimum thickness of the brake lining, a squealing noise sounds during braking.
Continued driving is possible but have the brake lining replaced as soon as possible.
Once new brake linings are installed, do not brake unnecessarily hard for the first few journeys.
Brake fluid
Warning
Brake fluid is poisonous and corrosive. Avoid contact with eyes, skin, fabrics and painted surfaces.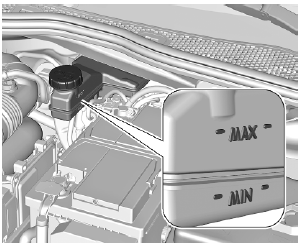 The brake fluid level must be between the MIN and MAX marks.
If fluid level is below MIN seek the assistance of a workshop.
Fill with clean water mixed with a suitable quantity of approved windscreen washer fluid which contains antifreeze. Caution Only washer fluid with a sufficient antifreeze concentration provides protection at low temperatures or a sudden drop in temperature...
The vehicle battery is maintenancefree provided that the driving profile allows sufficient charging of the battery. Short-distance-driving and frequent engine starts can discharge the battery...
Other information:
In the event of a fault, a message is displayed in the Colour Info Display, accompanied by an acoustic signal. In the event of a fault in the power steering, illuminates and a message is displayed in the Driver Information Centre. Warning Under certain circumstances, various reflective surfaces on objects or clothing as well as external noise sources may cause the system to fail to dete..
Before attaching a trailer, lubricate the coupling ball. However, do not do so if a stabiliser, which acts on the coupling ball, is being used to reduce snaking movements. During trailer towing do not exceed a speed of 80 km/h. A maximum speed of 100 km/h is only appropriate if an oscillation damper is used and the permissible gross trailer weight does not exceed the vehicle's curb weig..