Opel Corsa: Vehicle checks / Brakes. Brake fluid
Brakes
In the event of minimum thickness of the brake lining, a squealing noise sounds during braking.
Continued driving is possible but have the brake lining replaced as soon as possible.
Once new brake linings are installed, do not brake unnecessarily hard for the first few journeys.
Brake fluid
Warning
Brake fluid is poisonous and corrosive. Avoid contact with eyes, skin, fabrics and painted surfaces.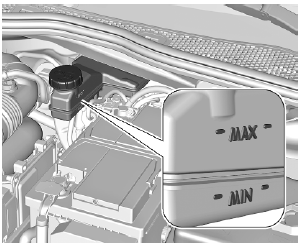 The brake fluid level must be between the MIN and MAX marks.
If fluid level is below MIN seek the assistance of a workshop.