Opel Corsa: Vehicle checks / Washer fluid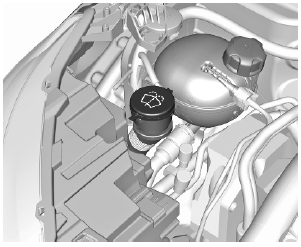 Fill with clean water mixed with a suitable quantity of approved windscreen washer fluid which contains antifreeze.
Caution
Only washer fluid with a sufficient antifreeze concentration provides protection at low temperatures or a sudden drop in temperature.
The factory filled coolant provides freeze protection down to approx. -37 °C. Caution Only use approved antifreeze. Coolant level Caution Too low a coolant level can cause engine damage...
Brakes In the event of minimum thickness of the brake lining, a squealing noise sounds during braking. Continued driving is possible but have the brake lining replaced as soon as possible...
Other information:
LED headlights Headlights for low and high beam, daytime running lights and turn lights are designed as LEDs and cannot be changed. Have lights repaired by a workshop in case of failure. Front fog lights Have lights repaired by a workshop in case of failure...
Electronic key system operation This system allows automatic vehicle locking and unlocking simply by detection of the electronic key. The electronic key must be outside the vehicle. Zone 1: switching on entry lighting Zone 2: automatic locking on leaving the vehicle Zone 3: automatic unlocking on approaching the vehicle Note A short time after automatic unlocking, the vehicle is r..
Categories
Copyright © 2022 www.opcorsaf.com