Opel Corsa: Vehicle checks / Engine coolant
The factory filled coolant provides freeze protection down to approx. -37 °C.
Caution
Only use approved antifreeze.
Coolant level
Caution
Too low a coolant level can cause engine damage.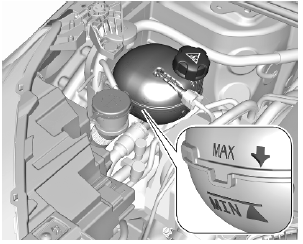 If the cooling system is cold, the coolant level should be above the MIN mark. Top up if the level is low.
Warning
Allow the engine to cool before opening the cap. Carefully open the cap, relieving the pressure slowly.
To top up, use a 1:1 mixture of released coolant concentrate mixed with clean tap water. If no coolant concentrate is available, use clean tap water. Install the cap tightly. Have the coolant concentration checked and have the cause of the coolant loss remedied by a workshop.
Check the engine oil level manually on a regular basis to prevent damage to the engine. Ensure that the correct specification of oil is used. The maximum engine oil consumption is 0...
Fill with clean water mixed with a suitable quantity of approved windscreen washer fluid which contains antifreeze. Caution Only washer fluid with a sufficient antifreeze concentration provides protection at low temperatures or a sudden drop in temperature...
Other information:
Turn key: 0 : ignition off: some functions remain active until key is removed or driver's door is opened, provided the ignition was on previously 1 : ignition on power mode: ignition is on, diesel engine is preheating, control indicators illuminate and most electrical functions are operable 2 : engine start: release key after engine has been started Steering wheel lock Remove key from ig..
Warning Inductive charging can affect the operation of implanted pacemakers or other medical devices. If applicable, seek medical advice before using the inductive charging device. Warning Remove any metal objects from the charging device before charging a mobile device, as these objects could become very hot. To charge a device, the ignition must be switched on. To charge a mobile device..