Opel Corsa: Driver assistance systems / Front pedestrian protection
Front pedestrian protection may help to avoid or reduce the harm caused by front-end crashes with pedestrians when driving forward.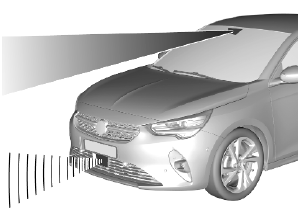 The system uses the front camera in the windscreen and depending on the vehicle configuration a radar unit in the front bumper to detect a pedestrian directly ahead in the path.
Warning
The usage of a license plate support may have an impact on the proper operation of the radar unit and may limit sensor perfomance. Vehicles or pedestrians driving or walking ahead may not be detected by the system.
Do not use a a license plate support to ensure proper system functionality.
Front pedestrian protection can detect and alert to pedestrians in a forward gear at speeds between 5 km/h and 60 km/h. Additionally, front pedestrian protection can provide a boost to braking or automatically brake the vehicle.
During nighttime driving, system performance is limited.
Danger
Front pedestrian braking does not provide an alert or automatically brake the vehicle, unless it detects a pedestrian.
The system may not detect pedestrians, including children, when the pedestrian is not directly ahead, not fully visible, not standing upright, or when part of a group.
The system can only be deactivated by deactivating the active emergency braking in the vehicle personalisation. When ignition is switched on next time, system is activated.
When approaching a detected pedestrian too quickly, a warning message is displayed in the Driver Information Centre. A warning chime is provided. Cruise control or adaptive cruise control may be disengaged when the front pedestrian alert occurs...
Other information:
Caution For optimal operation of the system, it is important to keep the lense of the camera in the tailgate between the number plate lights and the lense in the front grill below the emblem always clean. Rinse the lenses with water and wipe with a soft cloth...
Depending on the calculated range of AdBlue, different messages are displayed in the Driver Information Centre. The messages and the restrictions are a legal requirement. The first warning level is entered when the estimated AdBlue range is between 2400 km and 800 km...