Opel Corsa: Fuel / Fuel for petrol engines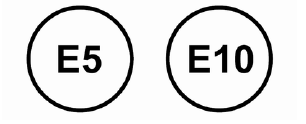 Only use unleaded fuel that complies with European standard EN 228 or E DIN 51626-1 or equivalent.
The engine is capable of running with fuel that contains up to 10% ethanol (e.g. named E10).
Use fuel with the recommended octane rating. A lower octane rating can reduce engine power and torque and slightly increases fuel consumption.
Caution
Do not use fuel or fuel additives that contain metallic compounds such as manganese-based additives. This may cause engine damage.
Caution
Use of fuel with a lower octane rating than the lowest possible rating could lead to uncontrolled combustion and engine damage.
The engine specific requirements regarding octane rating are given in the engine data overview. A country-specific label at the fuel filler flap can supersede the requirement. In certain countries, the use of a particular fuel, e.g. a specific octane rating, may be required to ensure proper engine operation.
The Diesel engines are compatible with bio-fuels that conform to current and future European standards and and can be obtained from filling stations: Diesel fuel that meets standard EN590 mixed with a biofuel that meets standard EN14214 (possibly containing up to 7% Fatty Acid Methyl Ester)...
Other information:
During entry and exit of the vehicle, the front and rear courtesy lights automatically switch on and then off after a delay. Note In the event of an accident with airbag deployment the courtesy lights are turned on automatically. Front courtesy light Operate rocker switch: : automatic switching on and off press : on press : off Reading lights Operated by pressing ...
The system warns the driver with acoustic signals and display indication against potentially hazardous obstacles behind the vehicle while reverse gear is engaged. The system operates with ultrasonic parking sensors in the rear bumper. Activation The system is ready to operate when the LED in the parking assist button is not illuminated...