Opel Corsa: Fuel / Fuel for petrol engines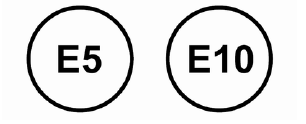 Only use unleaded fuel that complies with European standard EN 228 or E DIN 51626-1 or equivalent.
The engine is capable of running with fuel that contains up to 10% ethanol (e.g. named E10).
Use fuel with the recommended octane rating. A lower octane rating can reduce engine power and torque and slightly increases fuel consumption.
Caution
Do not use fuel or fuel additives that contain metallic compounds such as manganese-based additives. This may cause engine damage.
Caution
Use of fuel with a lower octane rating than the lowest possible rating could lead to uncontrolled combustion and engine damage.
The engine specific requirements regarding octane rating are given in the engine data overview. A country-specific label at the fuel filler flap can supersede the requirement. In certain countries, the use of a particular fuel, e.g. a specific octane rating, may be required to ensure proper engine operation.
The Diesel engines are compatible with bio-fuels that conform to current and future European standards and and can be obtained from filling stations: Diesel fuel that meets standard EN590 mixed with a biofuel that meets standard EN14214 (possibly containing up to 7% Fatty Acid Methyl Ester)...
Other information:
Roof rack For safety reasons and to avoid damage to the roof, the vehicle approved roof rack system is recommended. For further information, contact your workshop. Open all doors. Mounting points are located in each door frame of the vehicle body...
Turn lights illuminates or flashes green. Illuminates briefly The parking lights are switched on. Flashes Turn lights or the hazard warning flashers are activated. Rapid flashing: failure of a turn light or associated fuse, failure of turn light on trailer...