Opel Corsa: Side blind spot alert / Functionality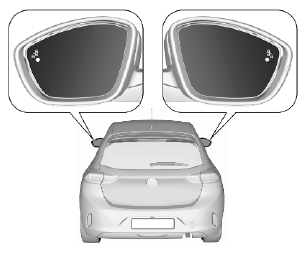 When the system detects a vehicle in the side blind zone while driving forwards, an LED will illuminate in the relevant exterior mirror.
The LED comes on immediately when your vehicle is being passed.
The LED comes on after a delay when your vehicle is passing another vehicle slowly.
The following conditions must be fulfilled for proper operation: all vehicles are moving in the same direction and in adjacent lanes depending on the configuration of the vehicle, the speed of your vehicle is between 12 or 33 and 140 km/h passing a vehicle with a speed difference of less than 10 km/h another vehicle is passing with a speed difference of less than 25 km/h the..
Other information:
Warning The driver bears full responsibility for accepting the parking slot suggested by the system and the parking manoeuvre. Always check the surrounding area in all directions when using the advanced parking assist. The advanced parking assist measures a suitable parking slot while passing, calculates the trajectory and automatically steers the vehicle while parking. Advanced parking a..
Roof rack For safety reasons and to avoid damage to the roof, the vehicle approved roof rack system is recommended. For further information, contact your workshop. Open all doors. Mounting points are located in each door frame of the vehicle body. Fasten the roof rack according to the installation instructions delivered with the roof rack. Remove the roof rack when not in use...