Opel Corsa: Side blind spot alert / Functionality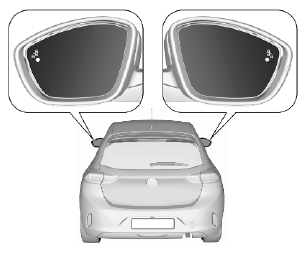 When the system detects a vehicle in the side blind zone while driving forwards, an LED will illuminate in the relevant exterior mirror.
The LED comes on immediately when your vehicle is being passed.
The LED comes on after a delay when your vehicle is passing another vehicle slowly.
The following conditions must be fulfilled for proper operation: all vehicles are moving in the same direction and in adjacent lanes depending on the configuration of the vehicle, the speed of your vehicle is between 12 or 33 and 140 km/h passing a vehicle with a speed difference of less than 10 km/h another vehicle is passing with a speed difference of less than 25 km/h the..
Other information:
Brightness of the following lights can be adjusted when the exterior lights are on: instrument panel illumination Info Display illuminated switches and operation elements Turn thumb wheel and hold until the desired brightness is obtained...
Windscreen stickers Do not attach stickers such as toll road stickers or similar on the windscreen in the area of the interior mirror. Otherwise the detection zone of the sensor and the view area of the camera in the mirror housing could be restricted. Windscreen replacement Caution If the vehicle has a front-looking camera sensor for the driver assistance systems, it is very important th..