Opel Corsa: Side blind spot alert / Functionality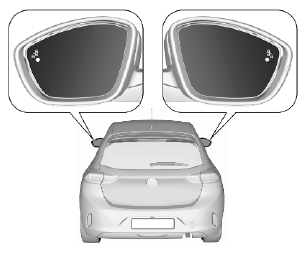 When the system detects a vehicle in the side blind zone while driving forwards, an LED will illuminate in the relevant exterior mirror.
The LED comes on immediately when your vehicle is being passed.
The LED comes on after a delay when your vehicle is passing another vehicle slowly.
The following conditions must be fulfilled for proper operation: all vehicles are moving in the same direction and in adjacent lanes depending on the configuration of the vehicle, the speed of your vehicle is between 12 or 33 and 140 km/h passing a vehicle with a speed difference of less than 10 km/h another vehicle is passing with a speed difference of less than 25 km/h the..
Other information:
The vehicle battery is maintenancefree provided that the driving profile allows sufficient charging of the battery. Short-distance-driving and frequent engine starts can discharge the battery. Avoid the use of unnecessary electrical consumers. Batteries do not belong in household waste. They must be disposed of at an appropriate recycling collection point. Laying up the vehicle for more ..
Active emergency braking can help to reduce the damage and injury from crashes with vehicles and pedestrians directly ahead, when the driver does not actively take action either by manual braking or by steering. Before the active emergency braking applies, the driver is warned by the forward collision alert. Active emergency braking can be deactivated in the vehicle personalisation. If ..