Opel Corsa: Side blind spot alert / Functionality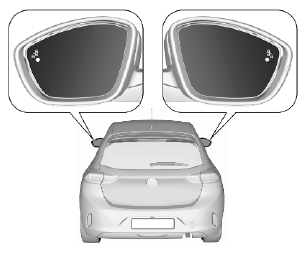 When the system detects a vehicle in the side blind zone while driving forwards, an LED will illuminate in the relevant exterior mirror.
The LED comes on immediately when your vehicle is being passed.
The LED comes on after a delay when your vehicle is passing another vehicle slowly.
The following conditions must be fulfilled for proper operation: all vehicles are moving in the same direction and in adjacent lanes depending on the configuration of the vehicle, the speed of your vehicle is between 12 or 33 and 140 km/h passing a vehicle with a speed difference of less than 10 km/h another vehicle is passing with a speed difference of less than 25 km/h the..
Other information:
Press . and a message are displayed in the Driver Information Centre. The system is still not active...
The illustrations show different variants of the infotainment system. Selecting menus and settings There are three options to operate the display: via buttons next to the display by touching the touchscreen with the finger via speech recognition Button and touch operation Press to switch on the display. Press to select system settings (units, language, time and date). Press to selec..