Opel Corsa: Side blind spot alert / Functionality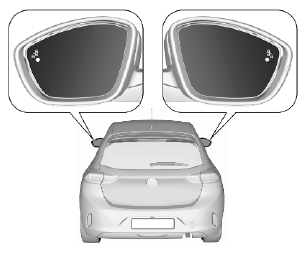 When the system detects a vehicle in the side blind zone while driving forwards, an LED will illuminate in the relevant exterior mirror.
The LED comes on immediately when your vehicle is being passed.
The LED comes on after a delay when your vehicle is passing another vehicle slowly.
The following conditions must be fulfilled for proper operation: all vehicles are moving in the same direction and in adjacent lanes depending on the configuration of the vehicle, the speed of your vehicle is between 12 or 33 and 140 km/h passing a vehicle with a speed difference of less than 10 km/h another vehicle is passing with a speed difference of less than 25 km/h the..
Other information:
The system performance may be affected by: a dirty or foggy windscreen or if the windscreen is affected by foreign objects, e.g. stickers close vehicles ahead banked roads winding or hilly roads road edges sudden lighting changes adverse environmental conditions, e.g. heavy rain or snow vehicle modifications, e.g. tyres Switch off the system if the system is disturbed by tar marks..
Only use unleaded fuel that complies with European standard EN 228 or E DIN 51626-1 or equivalent. The engine is capable of running with fuel that contains up to 10% ethanol (e.g. named E10). Use fuel with the recommended octane rating. A lower octane rating can reduce engine power and torque and slightly increases fuel consumption. Caution Do not use fuel or fuel additives that contain ..