Opel Corsa: Side blind spot alert / Functionality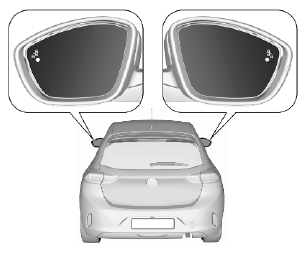 When the system detects a vehicle in the side blind zone while driving forwards, an LED will illuminate in the relevant exterior mirror.
The LED comes on immediately when your vehicle is being passed.
The LED comes on after a delay when your vehicle is passing another vehicle slowly.
The following conditions must be fulfilled for proper operation: all vehicles are moving in the same direction and in adjacent lanes depending on the configuration of the vehicle, the speed of your vehicle is between 12 or 33 and 140 km/h passing a vehicle with a speed difference of less than 10 km/h another vehicle is passing with a speed difference of less than 25 km/h the..
Other information:
Warning The system's automatic brake force does not permit hard braking and the braking level may not be sufficient to avoid a collision. After a sudden lane change, the system needs a certain time to detect the next preceding vehicle. So if a new vehicle is detected, the system may accelerate instead of braking. The adaptive cruise control does ignore the oncoming traffic. The ..
The selective catalytic reduction (BlueInjection) is a method to substantially reduce the nitrogen oxides in the exhaust emission. This is achieved by injecting a Diesel Exhaust Fluid (DEF) into the exhaust system. The ammonia released by the fluid reacts with nitrous gases (NOx) from the exhaust and turns it into nitrogen and water. The designation of this fluid is AdBlue®. It is a non..