Opel Corsa: Rear view camera / Functionality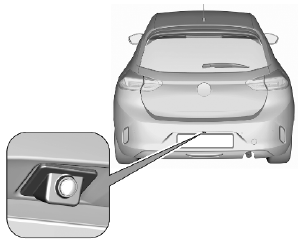 The camera is mounted in the rear bumper above the number plate.
The area displayed by the camera is limited. The distance of the image that appears on the display differs from the actual distance.
Guidelines
The first horizontal line represents a distance of about 30 cm beyond the edge of vehicle's rear bumper. The upper horizontal lines represent distances of about 1 m and 2 m.
Trajectory lane of the vehicle is shown in accordance with the steering angle.
The camera is switched off when: towing an electrically connected trailer, bicycle carrier, etc. a certain forward speed is exceeded or if reverse gear is not engaged for 7 seconds by pressing the icon in the left upper corner of the touch screen ..
Other information:
Convex shape The shape of the mirror makes objects appear smaller, which will affect the ability to estimate distances. Electric adjustment Select the relevant exterior mirror by pushing to the left or right. Then swivel the control to adjust the mirror. Folding mirrors For pedestrian safety, the exterior mirrors will swing out of their normal mounting position if they are struck with s..
Brake assist If brake pedal is depressed quickly and forcefully, maximum brake force is automatically applied. Operation of brake assist might become apparent by a pulse in the brake pedal and a greater resistance when depressing the brake pedal. Maintain steady pressure on the brake pedal as long as full braking is required. Maximum brake force is automatically reduced when brake pedal i..