Opel Corsa: Rear view camera / Functionality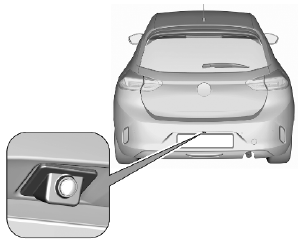 The camera is mounted in the rear bumper above the number plate.
The area displayed by the camera is limited. The distance of the image that appears on the display differs from the actual distance.
Guidelines
The first horizontal line represents a distance of about 30 cm beyond the edge of vehicle's rear bumper. The upper horizontal lines represent distances of about 1 m and 2 m.
Trajectory lane of the vehicle is shown in accordance with the steering angle.
The camera is switched off when: towing an electrically connected trailer, bicycle carrier, etc. a certain forward speed is exceeded or if reverse gear is not engaged for 7 seconds by pressing the icon in the left upper corner of the touch screen ..
Other information:
Only use unleaded fuel that complies with European standard EN 228 or E DIN 51626-1 or equivalent. The engine is capable of running with fuel that contains up to 10% ethanol (e.g. named E10). Use fuel with the recommended octane rating. A lower octane rating can reduce engine power and torque and slightly increases fuel consumption. Caution Do not use fuel or fuel additives that contain ..
Setting speed by the driver The adaptive cruise control has to be switched on manually at a speed between 30 km/h and 180 km/h. For vehicles with automatic transmission, the automatic selector lever must be in position D or M. Accelerate to the desired speed and move the thumb wheel to SET/-. The current speed is stored and maintained. The speed value is indicated in the Driver Informati..