Opel Corsa: Front seats / Seat position
Warning
Only drive with the seat correctly adjusted.
Warning
Never adjust seats while driving as they could move uncontrollably.
Danger
Do not sit closer than 25 cm to the steering wheel, to permit safe airbag deployment.
Warning
Never store any objects under the seats.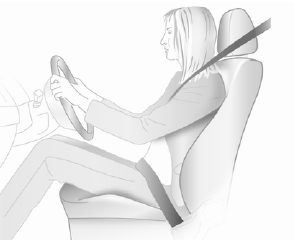 Sit with buttocks as far back against the backrest as possible. Adjust the distance between the seat and the pedals so that legs are slightly angled when pressing the pedals. Slide the front passenger seat as far back as possible.
Set seat height high enough to have a clear field of vision on all sides and of all display instruments. There should be at least one hand of clearance between head and the roof frame. Your thighs should rest lightly on the seat without pressing into it
Sit with shoulders as far back against the backrest as possible. Set the backrest rake so that it is possible to easily reach the steering wheel with arms slightly bent. Maintain contact between shoulders and the backrest when turning the steering wheel. Do not angle the backrest too far back. We recommend a maximum rake of approx. 25°.
Adjust seat and steering wheel in a way that the wrist rests on top of the steering wheel while the arm is fully extended and shoulders are on the backrest.
Adjust the steering wheel
Adjust the head restraint
Adjust the lumbar support so that it supports the natural shape of the spine.
Drive only with engaged seats and backrests. Longitudinal adjustment Pull handle, slide seat, release handle. Try to move the seat back and forth to ensure that the seat is locked in place...
Other information:
Warning The system's automatic brake force does not permit hard braking and the braking level may not be sufficient to avoid a collision. After a sudden lane change, the system needs a certain time to detect the next preceding vehicle. So if a new vehicle is detected, the system may accelerate instead of braking...
The following instrument cluster is available: Overview Turn lights Seat belt reminder Airbag and belt tensioners Airbag deactivation Charging system Malfunction indicator light Service vehicle soon Stop engine System check Brake and clutch system Electric parking brake Automatic operation of electric parking break off Electric parking brake fault Antilock brake system (ABS) Gear..