Opel Corsa: Electrical system / Fuses
Data on the replacement fuse must match the data on the defective fuse.
The three fuse boxes are located in:
engine compartment
instrument panel
Before replacing a fuse, turn off the respective switch and the ignition.
A blown fuse can be recognised by its melted wire.
Caution
Do not replace the fuse until the cause of the fault has been remedied.
Some functions are protected by several fuses.
Fuses may also be inserted without existence of a function.
Fuse extractor
A fuse extractor may be located in the cover of the left side of the instrument panel. The extractor has two sides, each side is designed for a different type of fuses.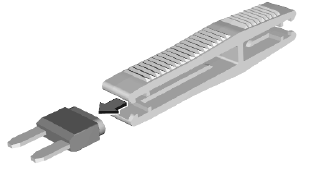 Grab the fuse with the fuse extractor and withdraw the fuse.
The fuse box is in the front left of the engine compartment. Disengage the cover and remove it. No. Circuit 1 Climate control system 2 Brake system 3 Fuse box (right side of the instrument panel) 4 Brake system 8 Fuel pump 16 Right headlight / heated windscreen 18 Right high beam 19 Left hig..
Other information:
Climate control system settings can be changed by activating the following functions: Fan speed Adjust the air flow by turning rotary ring to the desired speed. Turn anticlockwise to decrease or turn clockwise to increase. Fan speed can also be changed in the climate settings menu. Press MENU to enter the menu. Turn rotary ring anticlockwise as far as it will go: fan and cooling are sw..
The vehicle battery is maintenancefree provided that the driving profile allows sufficient charging of the battery. Short-distance-driving and frequent engine starts can discharge the battery. Avoid the use of unnecessary electrical consumers. Batteries do not belong in household waste. They must be disposed of at an appropriate recycling collection point. Laying up the vehicle for more ..