Opel Corsa: Electrical system / Fuses
Data on the replacement fuse must match the data on the defective fuse.
The three fuse boxes are located in:
engine compartment
instrument panel
Before replacing a fuse, turn off the respective switch and the ignition.
A blown fuse can be recognised by its melted wire.
Caution
Do not replace the fuse until the cause of the fault has been remedied.
Some functions are protected by several fuses.
Fuses may also be inserted without existence of a function.
Fuse extractor
A fuse extractor may be located in the cover of the left side of the instrument panel. The extractor has two sides, each side is designed for a different type of fuses.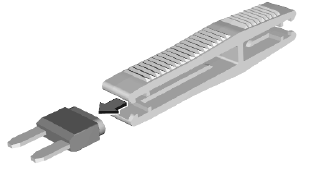 Grab the fuse with the fuse extractor and withdraw the fuse.
The fuse box is in the front left of the engine compartment. Disengage the cover and remove it. No. Circuit 1 Climate control system 2 Brake system 3 Fuse box (right side of the instrument panel) 4 Brake system 8 Fuel pump 16 Right headlight / heated windscreen 18 Right high beam 19 Left hig..
Other information:
In the event of a fault with the adaptive cruise control, you are alerted by the illumination of a warning light and the display of a message in the instrument panel, accompanied by an audible signal. The adaptive cruise control may not operate correctly if traffic signs do not comply with the Vienna Convention on Road Signs and Signals. Have the system checked by a dealer or a qualified ..
Press , the adaptive cruise control mode is disabled and the adaptive cruise control indication extinguishes in the Driver Information Centre. Pressing to activate the speed limiter deactivates adaptive cruise control. Switching off the ignition deletes the stored set speed...