Opel Corsa: Electrical system / Fuses
Data on the replacement fuse must match the data on the defective fuse.
The three fuse boxes are located in:
engine compartment
instrument panel
Before replacing a fuse, turn off the respective switch and the ignition.
A blown fuse can be recognised by its melted wire.
Caution
Do not replace the fuse until the cause of the fault has been remedied.
Some functions are protected by several fuses.
Fuses may also be inserted without existence of a function.
Fuse extractor
A fuse extractor may be located in the cover of the left side of the instrument panel. The extractor has two sides, each side is designed for a different type of fuses.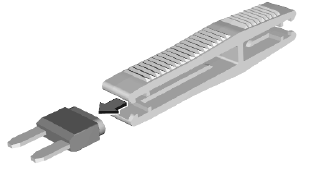 Grab the fuse with the fuse extractor and withdraw the fuse.
The fuse box is in the front left of the engine compartment. Disengage the cover and remove it. No. Circuit 1 Climate control system 2 Brake system 3 Fuse box (right side of the instrument panel) 4 Brake system 8 Fuel pump 16 Right headlight / heated windscreen 18 Right high beam 19 Left hig..
Other information:
Antilock brake system (ABS) prevents the wheels from locking. ABS starts to regulate brake pressure as soon as a wheel shows a tendency to lock. The vehicle remains steerable, even during hard braking. ABS control is made apparent through a pulse in the brake pedal and the noise of the regulation process. For optimum braking, keep the brake pedal fully depressed throughout the braking pro..
Do not start with quick charger. A vehicle with a discharged vehicle battery can be started using jump leads and the vehicle battery of another vehicle. Warning Be extremely careful when starting with jump leads. Any deviation from the following instructions can lead to injuries or damage caused by battery explosion or damage to the electrical systems of both vehicles. Warning Avoid conta..