Opel Corsa: Electrical system / Engine compartment fuse box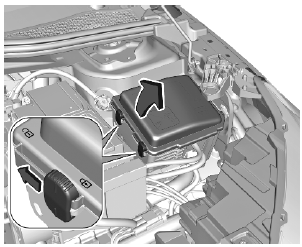 The fuse box is in the front left of the engine compartment.
Disengage the cover and remove it.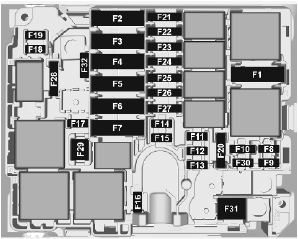 No. Circuit
1 Climate control system
2 Brake system
3 Fuse box (right side of the instrument panel)
4 Brake system
8 Fuel pump
16 Right headlight / heated windscreen
18 Right high beam
19 Left high beam
No. Circuit
20 Fuel pump
22 Automatic transmission
25 Fuse box (trailer)
28 Selective catalytic reduction system
29 Windscreen wiper
31 Climate control system
32 Steering wheel
After having changed defective fuses, close the fuse box cover and lock it. If the fuse box cover is not closed correctly, malfunction may occur.
Data on the replacement fuse must match the data on the defective fuse. The three fuse boxes are located in: engine compartment instrument panel Before replacing a fuse, turn off the respective switch and the ignition...
Other information:
The illustrations show different variants of the infotainment system. Selecting menus and settings There are three options to operate the display: via buttons next to the display by touching the touchscreen with the finger via speech recognition Button and touch operation Press to switch on the display. Press to select system settings (units, language, time and date). Press to selec..
In left-hand drive vehicles, the fuse box is located behind a cover in the glovebox. Open the glovebox and remove the cover. Remove the bracket. In right-hand drive vehicles, the fuse box is located behind a cover in the instrument panel. Disengage cover at the bottom side and remove. Remove the bracket. No. Circuit 1 Heated rear window 2 Heated exterior mirror..