Opel Corsa: Electrical system / Engine compartment fuse box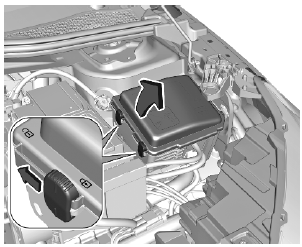 The fuse box is in the front left of the engine compartment.
Disengage the cover and remove it.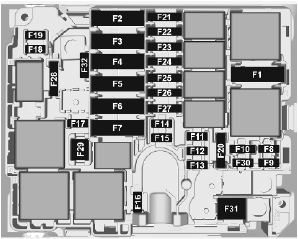 No. Circuit
1 Climate control system
2 Brake system
3 Fuse box (right side of the instrument panel)
4 Brake system
8 Fuel pump
16 Right headlight / heated windscreen
18 Right high beam
19 Left high beam
No. Circuit
20 Fuel pump
22 Automatic transmission
25 Fuse box (trailer)
28 Selective catalytic reduction system
29 Windscreen wiper
31 Climate control system
32 Steering wheel
After having changed defective fuses, close the fuse box cover and lock it. If the fuse box cover is not closed correctly, malfunction may occur.
Data on the replacement fuse must match the data on the defective fuse. The three fuse boxes are located in: engine compartment instrument panel Before replacing a fuse, turn off the respective switch and the ignition...
Other information:
Electronic control units are installed in your vehicle. Control units process data which is received by vehicle sensors, for example, or which they generate themselves or exchange amongst themselves. Some control units are necessary for the safe functioning of your vehicle, others assist you while you drive (driver assistance systems), while others provide comfort or infotainment functi..
Turn key: 0 : ignition off: some functions remain active until key is removed or driver's door is opened, provided the ignition was on previously 1 : ignition on power mode: ignition is on, diesel engine is preheating, control indicators illuminate and most electrical functions are operable 2 : engine start: release key after engine has been started Steering wheel lock Remove key from ig..