Opel Corsa: Electrical system / Engine compartment fuse box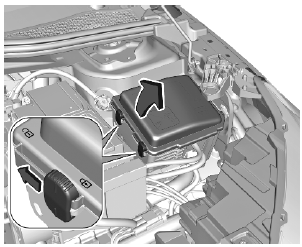 The fuse box is in the front left of the engine compartment.
Disengage the cover and remove it.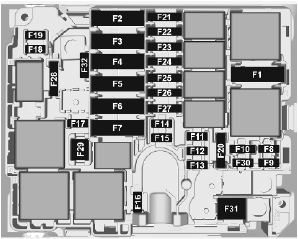 No. Circuit
1 Climate control system
2 Brake system
3 Fuse box (right side of the instrument panel)
4 Brake system
8 Fuel pump
16 Right headlight / heated windscreen
18 Right high beam
19 Left high beam
No. Circuit
20 Fuel pump
22 Automatic transmission
25 Fuse box (trailer)
28 Selective catalytic reduction system
29 Windscreen wiper
31 Climate control system
32 Steering wheel
After having changed defective fuses, close the fuse box cover and lock it. If the fuse box cover is not closed correctly, malfunction may occur.
Data on the replacement fuse must match the data on the defective fuse. The three fuse boxes are located in: engine compartment instrument panel Before replacing a fuse, turn off the respective switch and the ignition...
Other information:
Warning If a floor mat has the wrong size or is not properly installed, it can interfere with the accelerator pedal and/or brake pedal, what can cause unintended acceleration and/or increased stopping distance which can cause a crash and injury. Use the following guidelines for proper floor mat usage. The original equipment floor mats were designed for your vehicle. If the floor mats..
In the following cases, front pedestrian protection may not detect a pedestrian ahead or sensor performance is limited: vehicle speed is out of range from 5 km/h to 80 km/h in forward gear driving on winding or hilly roads driving in the dark weather limits visibility, such as fog, rain, or snow the sensor in the windscreen or the radar unit behind the front bumper are blocked by sn..