Opel Corsa: Electrical system / Engine compartment fuse box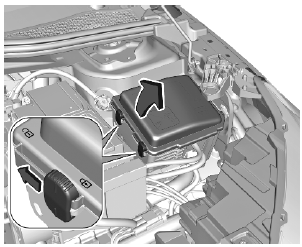 The fuse box is in the front left of the engine compartment.
Disengage the cover and remove it.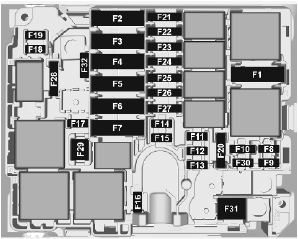 No. Circuit
1 Climate control system
2 Brake system
3 Fuse box (right side of the instrument panel)
4 Brake system
8 Fuel pump
16 Right headlight / heated windscreen
18 Right high beam
19 Left high beam
No. Circuit
20 Fuel pump
22 Automatic transmission
25 Fuse box (trailer)
28 Selective catalytic reduction system
29 Windscreen wiper
31 Climate control system
32 Steering wheel
After having changed defective fuses, close the fuse box cover and lock it. If the fuse box cover is not closed correctly, malfunction may occur.
Data on the replacement fuse must match the data on the defective fuse. The three fuse boxes are located in: engine compartment instrument panel Before replacing a fuse, turn off the respective switch and the ignition...
Other information:
Stop engine illuminates red. Illuminates briefly when the ignition is switched on. Illuminates together with other control indicators, accompanied by a warning chime and a corresponding message in the Driver Information Centre. Stop engine immediately and seek the assistance of a workshop. System check illuminates yellow or red. Illuminates yellow A minor engine fault has been detected. Il..
Cigarette lighter Press in cigarette lighter. It switches off automatically once the element is glowing. Pull out cigarette lighter. Ashtrays Caution To be used only for ash and not for combustible rubbish. A portable ashtray can be placed in the cupholders...