Opel Corsa: In brief
Initial drive information
Instrument panel overview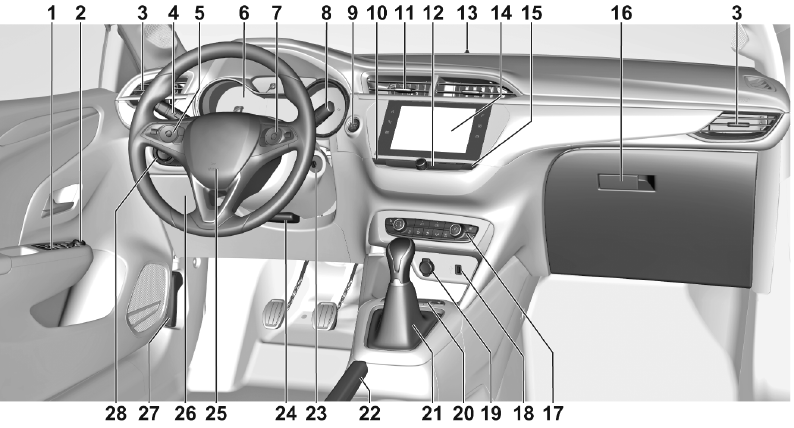 Power windows
Exterior mirrors
Side air vents
Turn lights, headlight flash, low / high beam

Parking lights

Buttons for Driver Information Centre

Cruise control

Adaptive cruise control

Speed limiter

Heated steering wheel

Instruments

Driver Information Centre

Infotainment controls
Windscreen wiper and washer, rear wiper and washer
Power button
Central locking system
Centre air vents
Controls for Info Display operation
Anti-theft alarm system status LED
Info Display
Hazard warning flashers
Glovebox
Climate control system
USB charging port
Power outlet
Parking assist / Advanced parking assist

Lane keep assist

Stop start system

Electronic Stability Control and Traction Control

Manual transmission

Automatic transmission

Manual parking brake

Electric parking brake

Ignition switch
Steering wheel adjustment
Horn
Fuse box
Bonnet release lever
Light switch

Headlight range adjustment

Front / rear fog lights

Instrument illumination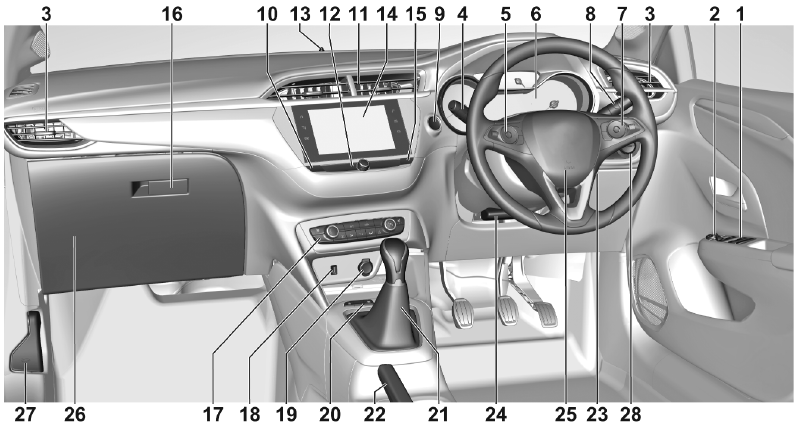 Vehicle specific data Please enter your vehicle's data on the previous page to keep it easily accessible. Please refer to the sections "Service and maintenance", "Technical data", the vehicle's identification plate and national registration documents...
Other information:
The factory filled coolant provides freeze protection down to approx. -37 °C. Caution Only use approved antifreeze. Coolant level Caution Too low a coolant level can cause engine damage. If the cooling system is cold, the coolant level should be above the MIN mark. Top up if the level is low. Warning Allow the engine to cool before opening the cap. Carefully open the cap, relieving the pr..
Remove the protective cover by pulling. Rotate the bulb socket anticlockwise to disengage and withdraw from the reflector. Insert the new bulb socket into the reflector housing. Fit the protective cover on. ..
Categories
Copyright © 2021 www.opcorsaf.com