Opel Corsa: In brief
Initial drive information
Instrument panel overview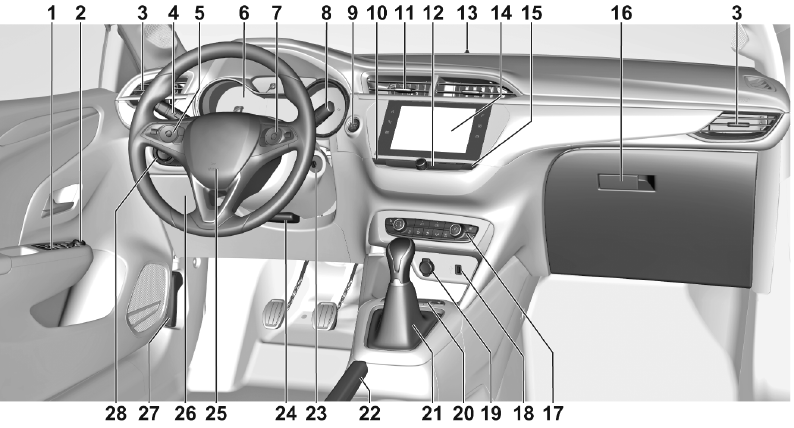 Power windows
Exterior mirrors
Side air vents
Turn lights, headlight flash, low / high beam

Parking lights

Buttons for Driver Information Centre

Cruise control

Adaptive cruise control

Speed limiter

Heated steering wheel

Instruments

Driver Information Centre

Infotainment controls
Windscreen wiper and washer, rear wiper and washer
Power button
Central locking system
Centre air vents
Controls for Info Display operation
Anti-theft alarm system status LED
Info Display
Hazard warning flashers
Glovebox
Climate control system
USB charging port
Power outlet
Parking assist / Advanced parking assist

Lane keep assist

Stop start system

Electronic Stability Control and Traction Control

Manual transmission

Automatic transmission

Manual parking brake

Electric parking brake

Ignition switch
Steering wheel adjustment
Horn
Fuse box
Bonnet release lever
Light switch

Headlight range adjustment

Front / rear fog lights

Instrument illumination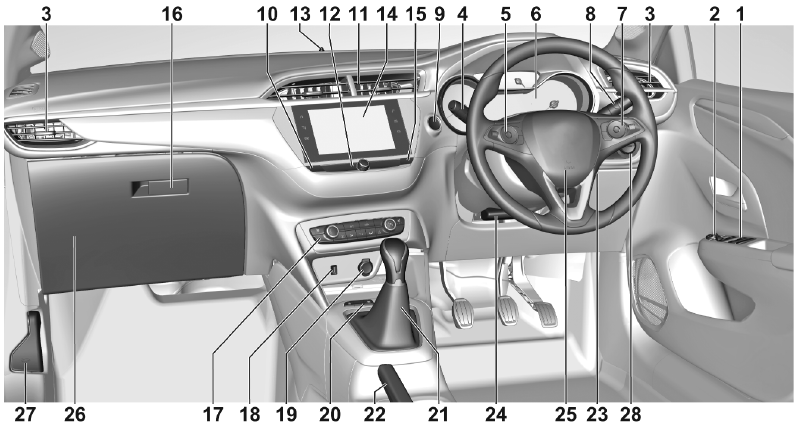 Vehicle specific data Please enter your vehicle's data on the previous page to keep it easily accessible. Please refer to the sections "Service and maintenance", "Technical data", the vehicle's identification plate and national registration documents...
Other information:
In the event of a fault or if the system does not work temporarily, e.g. because of high external noise level or other interference factors, illuminates in the instrument cluster. A message is displayed in the Driver Information Centre and a warning chime sounds. Warning Under certain circumstances, various reflective surfaces on objects or clothing as well as external noise sources may..
LED tail lights Have lights repaired by a workshop in case of failure. Light assembly in the body Open the tailgate then remove the access cover on the relevant side. Slacken the lamp fixing nut using a box spanner or socket.To avoid losing the nut if it drops into the wing trim, first place a cloth below it. Manually unscrew and remove the lamp fixing nut. Carefully withdraw ..
Categories
Copyright © 2023 www.opcorsaf.com