Opel Corsa: In brief
Initial drive information
Instrument panel overview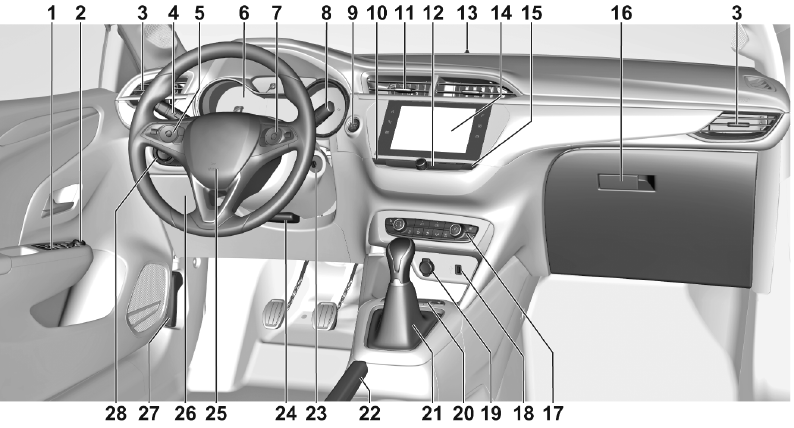 Power windows
Exterior mirrors
Side air vents
Turn lights, headlight flash, low / high beam

Parking lights

Buttons for Driver Information Centre

Cruise control

Adaptive cruise control

Speed limiter

Heated steering wheel

Instruments

Driver Information Centre

Infotainment controls
Windscreen wiper and washer, rear wiper and washer
Power button
Central locking system
Centre air vents
Controls for Info Display operation
Anti-theft alarm system status LED
Info Display
Hazard warning flashers
Glovebox
Climate control system
USB charging port
Power outlet
Parking assist / Advanced parking assist

Lane keep assist

Stop start system

Electronic Stability Control and Traction Control

Manual transmission

Automatic transmission

Manual parking brake

Electric parking brake

Ignition switch
Steering wheel adjustment
Horn
Fuse box
Bonnet release lever
Light switch

Headlight range adjustment

Front / rear fog lights

Instrument illumination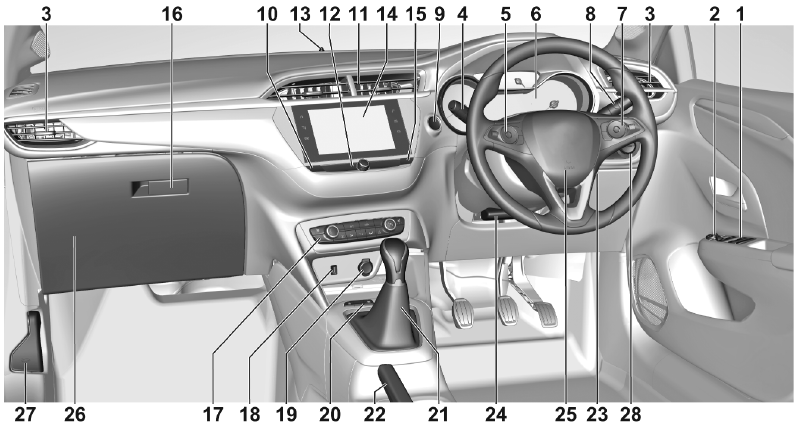 Vehicle specific data Please enter your vehicle's data on the previous page to keep it easily accessible. Please refer to the sections "Service and maintenance", "Technical data", the vehicle's identification plate and national registration documents...
Other information:
Warning Before leaving the vehicle, check parking brake status. Control indicator illuminate constantly when electric parking brake is applied. Manual parking brake Warning Always apply parking brake firmly without operating the release button, and apply as firmly as possible on a downhill or uphill slope. To release the parking brake, pull the lever up slightly, press the release butt..
In left-hand drive vehicles, the fuse box is behind a cover in the instrument panel. Disengage cover at the bottom side and remove. In right-hand drive vehicles, the fuse box is located behind a cover in the glovebox. Open the glovebox and remove the cover. No. Circuit 1 Radar / Interior mirror 3 Inductive charging 4 Horn 5 Windscreen wa..
Categories
Copyright © 2023 www.opcorsaf.com