Opel Corsa: In brief
Initial drive information
Instrument panel overview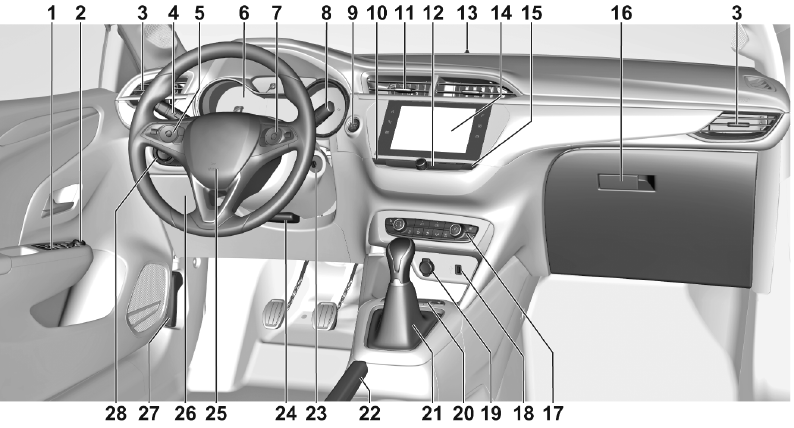 Power windows
Exterior mirrors
Side air vents
Turn lights, headlight flash, low / high beam

Parking lights

Buttons for Driver Information Centre

Cruise control

Adaptive cruise control

Speed limiter

Heated steering wheel

Instruments

Driver Information Centre

Infotainment controls
Windscreen wiper and washer, rear wiper and washer
Power button
Central locking system
Centre air vents
Controls for Info Display operation
Anti-theft alarm system status LED
Info Display
Hazard warning flashers
Glovebox
Climate control system
USB charging port
Power outlet
Parking assist / Advanced parking assist

Lane keep assist

Stop start system

Electronic Stability Control and Traction Control

Manual transmission

Automatic transmission

Manual parking brake

Electric parking brake

Ignition switch
Steering wheel adjustment
Horn
Fuse box
Bonnet release lever
Light switch

Headlight range adjustment

Front / rear fog lights

Instrument illumination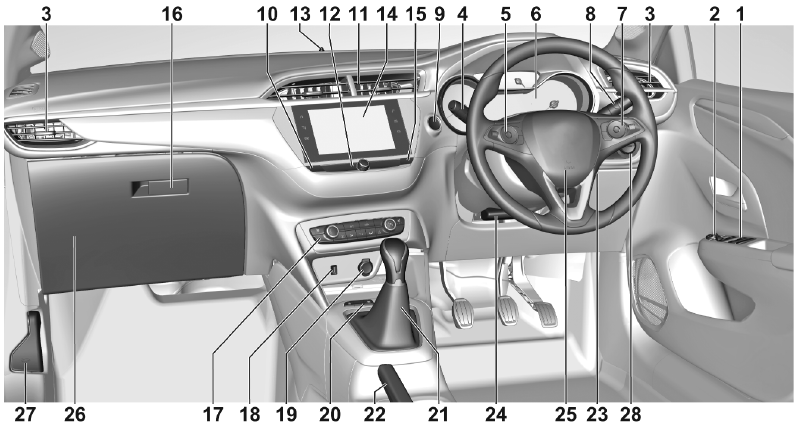 Vehicle specific data Please enter your vehicle's data on the previous page to keep it easily accessible. Please refer to the sections "Service and maintenance", "Technical data", the vehicle's identification plate and national registration documents...
Other information:
Active emergency braking can help to reduce the damage and injury from crashes with vehicles and pedestrians directly ahead, when the driver does not actively take action either by manual braking or by steering. Before the active emergency braking applies, the driver is warned by the forward collision alert. Active emergency braking can be deactivated in the vehicle personalisation. If ..
Controls for: temperature MENU enters the Climate setting menu in the Info Display fan speed automatic mode AUTO cooling A/C manual air recirculation demisting and defrosting heated rear window and exterior mirrors heated seats Heated rear window . Heated exterior mirrors . Heated seats . In automatic mode, temperature, fan speed and air distribution are regulated automati..
Copyright © 2022 www.opcorsaf.com