Opel Corsa: Keys, doors and windows / Interior mirrors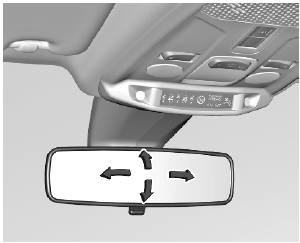 To adjust the mirror, move the mirror housing in the desired direction.
Manual anti-dazzle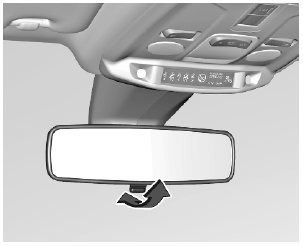 To reduce dazzle, adjust the lever on the underside of the mirror housing.
Automatic anti-dazzle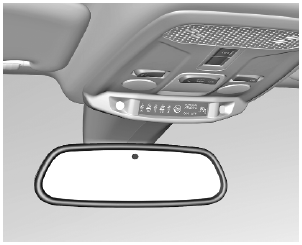 Dazzle from following vehicles is automatically reduced, when driving in the dark.
Convex shape The shape of the mirror makes objects appear smaller, which will affect the ability to estimate distances. Electric adjustment Select the relevant exterior mirror by pushing to the left or right...
Other information:
Following a cold start, the operating temperature programme increases engine speed to quickly bring the catalytic converter to the required temperature. Special programmes automatically adapt the shifting points when driving up inclines or down hills. In snowy or icy conditions or on other slippery surfaces, the electronic transmission control enables the driver to select manually first, ..
Curtain airbag system The curtain airbag system consists of an airbag in the roof frame on each side. This can be identified by the word AIRBAG on the roof pillars. The curtain airbag system is triggered in the event of a side-on impact of a certain severity. The ignition must be switched on. The inflated airbags cushion the impact, thereby reducing the risk of injury to the head in the e..