Opel Corsa: Keys, locks / Keys
Caution
Do not attach heavy or bulky items to the ignition key.
Replacement keys
The key number is specified on a detachable tag.
The key number must be quoted when ordering replacement keys as it is a component of the immobiliser system.
The code number of the adapter for the locking wheel nuts is specified on a card. It must be quoted when ordering a replacement adapter.
Key with foldaway key section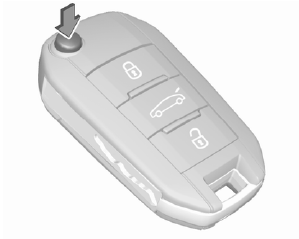 Press button to extend. To fold the key, first press the button.
Enables operation of the following functions via the use of the remote control buttons: central locking system anti-theft locking system anti-theft alarm system tailgate unlocking and opening power windows mirrors folding vehicle locator lighting peripheral lighting The remote control has a range of up to 100 m, but may also be much less due to external influences...
Other information:
Vehicle storage Storage for a long period of time If the vehicle is to be stored for several months: Wash and wax the vehicle. Have the wax in the engine compartment and underbody checked. Clean and preserve the rubber seals. Fill up fuel tank completely...
In the following situations, the system may not operate properly or even not operate at all: poor visibility caused by inadequate lighting of the roadway, falling snow, heavy rain, dense fog etc. dazzle caused by headlamps of an oncoming vehicles, low sun, reflections on damp roads, leaving a tunnel, alternating shade and light etc...