Opel Corsa: Keys, locks / Radio remote control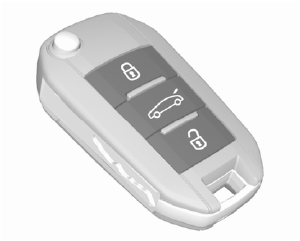 Enables operation of the following functions via the use of the remote control buttons:
central locking system
anti-theft locking system
anti-theft alarm system
tailgate unlocking and opening
power windows
mirrors folding
vehicle locator lighting
peripheral lighting
The remote control has a range of up to 100 m, but may also be much less due to external influences. The hazard warning flashers confirm operation.
Handle with care, protect from moisture and high temperatures and avoid unnecessary operation.
Replacing battery in radio remote control
Replace the battery as soon as the system no longer operates properly or the range is reduced.
In the event of a discharged battery,

illuminates in the instrument cluster and a warning message is displayed in the Driver Information Centre.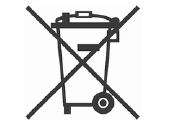 Batteries do not belong in household waste. They must be disposed of at an appropriate recycling collection point.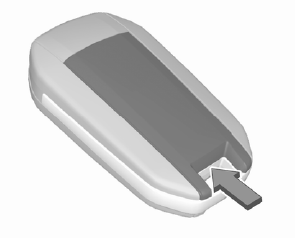 Remove the back cover from the remote control.
Extract the flat battery from its location.
Replace battery with a battery of the same type. Pay attention to the installation position.
Clip the back cover in place.
Fault
If the central locking system cannot be operated with the radio remote control, the cause may be one of the following:
Fault in radio remote control.
The battery voltage is too low.
Overload of the central locking system by operating at frequent intervals, the power supply is interrupted for a short time.
Interference from higher-power radio waves from other sources.
Caution Do not attach heavy or bulky items to the ignition key. Replacement keys The key number is specified on a detachable tag. The key number must be quoted when ordering replacement keys as it is a component of the immobiliser system...
Enables, depending on version, a keyless operation of the following functions: central locking system ignition switching on and starting the engine The electronic key simply needs to be on the driver's person...
Other information:
Caution Only use AdBlue that complies with European standards DIN 70 070 and ISO 22241-1. Do not use additives. Do not dilute AdBlue. Otherwise the selective catalytic reduction system could be damaged. Note Whenever a filling pump with a nozzle for passenger cars is not available at a filling station, use only AdBlue bottles or canisters with a sealed refill adapter for refilling, to pre..
Warning The panoramic view system does not replace driver vision. It will not display children, pedestrians, cyclists, crossing traffic, animals, or any other objects outside of the camera view area, e. g. below the bumper, or underneath the vehicle. Do not drive or park the vehicle using only the panoramic view system. Always check the surrounding of the vehicle before driving. Displaye..