Opel Corsa: Climate control / Maintenance
Air intake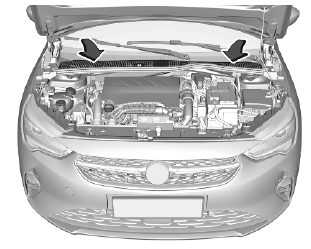 The air intake in front of the windscreen in the engine compartment must be kept clear to allow air intake. Remove any leaves, dirt or snow.
Air conditioning regular operation
In order to ensure continuously efficient performance, cooling must be operated for a few minutes once a month, irrespective of the weather and time of year. Operation with cooling is not possible when the outside temperature is too low.
Service
For optimal cooling performance, it is recommended to annually check the climate control system, starting three years after initial vehicle registration, including:
functionality and pressure test
heating functionality
leakage check
check of drive belts
cleaning of condenser and evaporator drainage
performance check
Adjustable air vents Centre air vents in the instrument panel Direct the flow of air by tilting and swivelling the slats. To close the vent, swivel the slats inwards...
Other information:
Check the engine oil level manually on a regular basis to prevent damage to the engine. Ensure that the correct specification of oil is used. The maximum engine oil consumption is 0.6 l per 1000 km. Check with the vehicle on a level surface. The engine must be at operating temperature and switched off for at least 5 min. Different dipsticks are used depending on engine variant. Pull out..
Before attaching a trailer, lubricate the coupling ball. However, do not do so if a stabiliser, which acts on the coupling ball, is being used to reduce snaking movements. During trailer towing do not exceed a speed of 80 km/h. A maximum speed of 100 km/h is only appropriate if an oscillation damper is used and the permissible gross trailer weight does not exceed the vehicle's curb weig..