Opel Corsa: Climate control / Maintenance
Air intake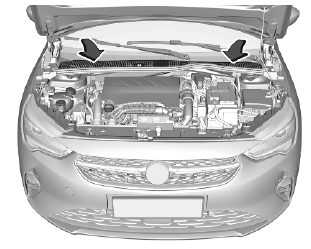 The air intake in front of the windscreen in the engine compartment must be kept clear to allow air intake. Remove any leaves, dirt or snow.
Air conditioning regular operation
In order to ensure continuously efficient performance, cooling must be operated for a few minutes once a month, irrespective of the weather and time of year. Operation with cooling is not possible when the outside temperature is too low.
Service
For optimal cooling performance, it is recommended to annually check the climate control system, starting three years after initial vehicle registration, including:
functionality and pressure test
heating functionality
leakage check
check of drive belts
cleaning of condenser and evaporator drainage
performance check
Adjustable air vents Centre air vents in the instrument panel Direct the flow of air by tilting and swivelling the slats. To close the vent, swivel the slats inwards...
Other information:
Position Warning Only drive with the head restraint set to the proper position. The upper edge of the head restraint should be at upper head level. If this is not possible for extremely tall people, set to highest position, and set to lowest position for small people. Height adjustment Head restraints on front seats Pull the head restraint upwards or press the catch to release and push th..
Front airbag system The front airbag system consists of one airbag in the steering wheel and one in the instrument panel on the front passenger side. These can be identified by the word AIRBAG. The front airbag system is triggered in the event of a front-end impact of a certain severity. The ignition must be switched on. The inflated airbags cushion the impact, thereby reducing the risk o..