Opel Corsa: Climate control / Maintenance
Air intake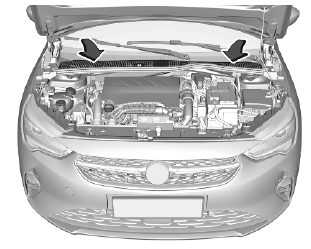 The air intake in front of the windscreen in the engine compartment must be kept clear to allow air intake. Remove any leaves, dirt or snow.
Air conditioning regular operation
In order to ensure continuously efficient performance, cooling must be operated for a few minutes once a month, irrespective of the weather and time of year. Operation with cooling is not possible when the outside temperature is too low.
Service
For optimal cooling performance, it is recommended to annually check the climate control system, starting three years after initial vehicle registration, including:
functionality and pressure test
heating functionality
leakage check
check of drive belts
cleaning of condenser and evaporator drainage
performance check
Adjustable air vents Centre air vents in the instrument panel Direct the flow of air by tilting and swivelling the slats. To close the vent, swivel the slats inwards...
Other information:
Outside temperature A drop in temperature is indicated immediately and a rise in temperature after a time delay. Illustration shows an example. If outside temperature drops to a certain temperature, a warning message is displayed in the Driver Information Centre. Warning The road surface may already be icy even though the display indicates a few degrees above 0 °C. Clock Date and time ar..
Depending on the calculated range of AdBlue, different messages are displayed in the Driver Information Centre. The messages and the restrictions are a legal requirement. The first warning level is entered when the estimated AdBlue range is between 2400 km and 800 km. When switching on the ignition, this warning will show up once briefly with the calculated range. Additionally, c..