Opel Corsa: Climate control / Maintenance
Air intake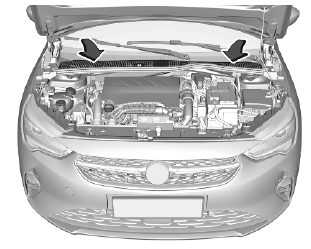 The air intake in front of the windscreen in the engine compartment must be kept clear to allow air intake. Remove any leaves, dirt or snow.
Air conditioning regular operation
In order to ensure continuously efficient performance, cooling must be operated for a few minutes once a month, irrespective of the weather and time of year. Operation with cooling is not possible when the outside temperature is too low.
Service
For optimal cooling performance, it is recommended to annually check the climate control system, starting three years after initial vehicle registration, including:
functionality and pressure test
heating functionality
leakage check
check of drive belts
cleaning of condenser and evaporator drainage
performance check
Adjustable air vents Centre air vents in the instrument panel Direct the flow of air by tilting and swivelling the slats. To close the vent, swivel the slats inwards...
Other information:
Windscreen stickers Do not attach stickers such as toll road stickers or similar on the windscreen in the area of the interior mirror. Otherwise the detection zone of the sensor and the view area of the camera in the mirror housing could be restricted. Windscreen replacement Caution If the vehicle has a front-looking camera sensor for the driver assistance systems, it is very important th..
Roof rack For safety reasons and to avoid damage to the roof, the vehicle approved roof rack system is recommended. For further information, contact your workshop. Open all doors. Mounting points are located in each door frame of the vehicle body. Fasten the roof rack according to the installation instructions delivered with the roof rack. Remove the roof rack when not in use...