Opel Corsa: Climate control / Maintenance
Air intake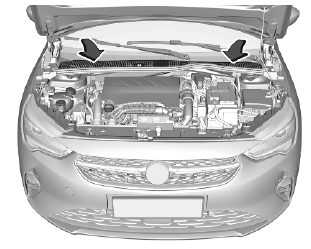 The air intake in front of the windscreen in the engine compartment must be kept clear to allow air intake. Remove any leaves, dirt or snow.
Air conditioning regular operation
In order to ensure continuously efficient performance, cooling must be operated for a few minutes once a month, irrespective of the weather and time of year. Operation with cooling is not possible when the outside temperature is too low.
Service
For optimal cooling performance, it is recommended to annually check the climate control system, starting three years after initial vehicle registration, including:
functionality and pressure test
heating functionality
leakage check
check of drive belts
cleaning of condenser and evaporator drainage
performance check
Adjustable air vents Centre air vents in the instrument panel Direct the flow of air by tilting and swivelling the slats. To close the vent, swivel the slats inwards...
Other information:
Airbag and belt tensioners illuminates red. When the ignition is switched on, the control indicator illuminates for some seconds. If it does not illuminate, does not extinguish after some seconds or illuminates whilst driving, there is a fault in the airbag system. Seek the assistance of a workshop. The airbags and belt pretensioners may fail to trigger in the event of an accident. Deplo..
Drive only with engaged seats and backrests. Longitudinal adjustment Pull handle, slide seat, release handle. Try to move the seat back and forth to ensure that the seat is locked in place. Backrest inclination Turn handwheel. Do not lean on backrest when adjusting. Seat height Lever pumping motion up : seat higher down : seat lower..