Opel Corsa: Exterior lighting / Parking lights. Reversing lights. Misted light covers
Parking lights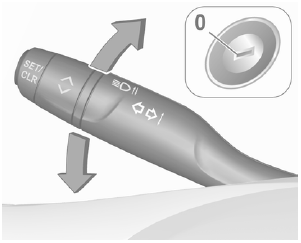 When the vehicle is parked, the parking lights on one side can be activated:
Switch off ignition.
Move the lever all the way up (right parking lights) or down (left parking lights).
Confirmed by a signal and the corresponding turn lights control indicator.
Reversing lights
The reversing light comes on when the ignition is on and reverse gear is selected.
Misted light covers
The inside of the light housing may mist up briefly in poor, wet and cold weather conditions, in heavy rain or after washing. The mist disappears quickly by itself. To help, switch on the headlights.
Front fog lights Light switch in position AUTO: switching on front fog lights will switch headlights on automatically. Rear fog light Operated by pressing ...
Other information:
In left-hand drive vehicles, the fuse box is behind a cover in the instrument panel. Disengage cover at the bottom side and remove. In right-hand drive vehicles, the fuse box is located behind a cover in the glovebox. Open the glovebox and remove the cover. No. Circuit 1 Radar / Interior mirror 3 Inductive charging 4 Horn 5 Windscreen wa..
The driver alert system monitores the driving time and the vigilance of the driver. Monitoring the vigilance of the driver is based on the trajectory variations of the vehicle compared to the lane markings. The system includes a driving time alert combined with driver drowsiness detection. Warning The system cannot replace the need for vigilance on the part of the driver. Taking a break i..