Opel Corsa: Exterior lighting / Parking lights. Reversing lights. Misted light covers
Parking lights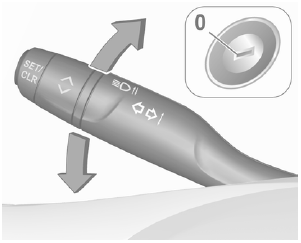 When the vehicle is parked, the parking lights on one side can be activated:
Switch off ignition.
Move the lever all the way up (right parking lights) or down (left parking lights).
Confirmed by a signal and the corresponding turn lights control indicator.
Reversing lights
The reversing light comes on when the ignition is on and reverse gear is selected.
Misted light covers
The inside of the light housing may mist up briefly in poor, wet and cold weather conditions, in heavy rain or after washing. The mist disappears quickly by itself. To help, switch on the headlights.
Front fog lights Light switch in position AUTO: switching on front fog lights will switch headlights on automatically. Rear fog light Operated by pressing ...
Other information:
In the following situations, the system may not operate properly or even not operate at all: poor visibility caused by inadequate lighting of the roadway, falling snow, heavy rain, dense fog etc. dazzle caused by headlamps of an oncoming vehicles, low sun, reflections on damp roads, leaving a tunnel, alternating shade and light etc. windscreen area in front of the camera cove..
Make the following preparations and observe the following information: Park the vehicle on a level, firm and non-skid surface. The front wheels must be in the straightahead position. If necessary, place a chock under the wheel diagonally opposite the wheel to be changed. Apply the parking brake and engage first gear, reverse gear or P. Remove the spare wheel. Never change more..