Opel Corsa: Exterior lighting / Parking lights. Reversing lights. Misted light covers
Parking lights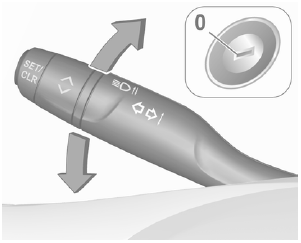 When the vehicle is parked, the parking lights on one side can be activated:
Switch off ignition.
Move the lever all the way up (right parking lights) or down (left parking lights).
Confirmed by a signal and the corresponding turn lights control indicator.
Reversing lights
The reversing light comes on when the ignition is on and reverse gear is selected.
Misted light covers
The inside of the light housing may mist up briefly in poor, wet and cold weather conditions, in heavy rain or after washing. The mist disappears quickly by itself. To help, switch on the headlights.
Front fog lights Light switch in position AUTO: switching on front fog lights will switch headlights on automatically. Rear fog light Operated by pressing ...
Other information:
Vehicles with ignition switch Turn key to position 1 to release the steering wheel lock. Manual transmission: operate clutch and brake pedal. Automatic transmission: operate brake pedal and move selector lever to P or N. Do not operate accelerator pedal. Diesel engines: wait until control indicator extinguishes. Turn key briefly to position 2 and release after engine has been started. Man..
After activation of brake preparation system and just before the imminent collision, this function automatically applies limited braking to reduce the impact speed of the collision or prohibit a crash. If active emergency braking is applied, flashes in the instrument cluster. Emergency automatic braking can only occur if a vehicle or a pedestrian ahead is detected. Below a speed of 30 km..