Opel Corsa: Exterior lighting / Parking lights. Reversing lights. Misted light covers
Parking lights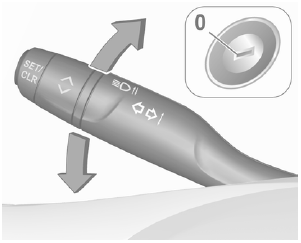 When the vehicle is parked, the parking lights on one side can be activated:
Switch off ignition.
Move the lever all the way up (right parking lights) or down (left parking lights).
Confirmed by a signal and the corresponding turn lights control indicator.
Reversing lights
The reversing light comes on when the ignition is on and reverse gear is selected.
Misted light covers
The inside of the light housing may mist up briefly in poor, wet and cold weather conditions, in heavy rain or after washing. The mist disappears quickly by itself. To help, switch on the headlights.
Front fog lights Light switch in position AUTO: switching on front fog lights will switch headlights on automatically. Rear fog light Operated by pressing ...
Other information:
Brake assist If brake pedal is depressed quickly and forcefully, maximum brake force is automatically applied. Operation of brake assist might become apparent by a pulse in the brake pedal and a greater resistance when depressing the brake pedal. Maintain steady pressure on the brake pedal as long as full braking is required. Maximum brake force is automatically reduced when brake pedal i..
Recommended fluids and lubricants Only use products that meet the recommended specifications. Warning Operating materials are hazardous and could be poisonous. Handle with care. Pay attention to information given on the containers. Engine oil Engine oil is identified by its quality and its viscosity. Quality is more important than viscosity when selecting which engine oil to use. The oil ..