Opel Corsa: Fuel / Refuelling
Danger
Before refuelling, switch off ignition and any external heaters with combustion chambers.
Follow the operating and safety instructions of the filling station when refuelling.
Danger
Fuel is flammable and explosive. No smoking. No naked flames or sparks.
If you can smell fuel in your vehicle, have the cause of this remedied immediately by a workshop.
A label with symbols at the fuel filler flap is indicating the allowed fuel types. In Europe the pump nozzles of the filling stations are marked with these symbols. Refuel only the allowed fuel type.
Caution
In case of misfuelling, do not switch on ignition.
Fuel filler flap is located at right rear side of vehicle.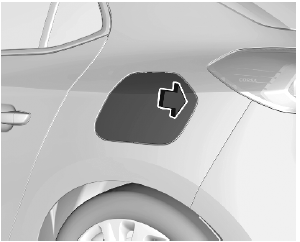 The fuel filler flap can only be opened if the vehicle is unlocked. Release the fuel filler flap by pushing the flap.
Petrol and diesel refuelling
To open, turn the cap slowly anticlockwise.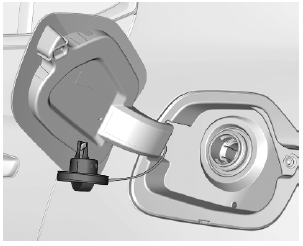 The fuel filler cap can be attached to the hook on the fuel filler flap.
Place the nozzle in straight position to the filler neck and press with slight force to insert.
To refuel, switch on pump nozzle. After the automatic cut-off, the tank can be topped up by operating the pump nozzle a maximum of two more times.
Caution
Wipe off any overflowing fuel immediately.
To close, turn the fuel filler cap clockwise until it clicks.
Close the flap and allow it to engage.
Fuel filler cap
Only use genuine fuel filler caps.
Diesel-engined vehicles have special fuel filler caps.
The Diesel engines are compatible with bio-fuels that conform to current and future European standards and and can be obtained from filling stations: Diesel fuel that meets standard EN590 mixed with a biofuel that meets standard EN14214 (possibly containing up to 7% Fatty Acid Methyl Ester)...
Other information:
This system allows views of the vehicle's surroundings to be displayed as a nearly 180° picture in the Info Display, like a bird's eye view. The system uses: rear camera, installed in the rear bumper ultrasonic parking sensors in the rear bumper The screen in the Info display is divided into two parts. On the right there is a view from above the vehicle, and on the left there is th..
Engine oil level monitor The state of the engine oil level is displayed in the Driver Information Centre for a few seconds following the service information after switching on the ignition. A proper state of engine oil level is indicated by a message. If oil level is low, flashes and a message is indicated, accompanied by the indicator. Confirm engine oil level by using the dipstick and..