Opel Corsa: Wheels and tyres / Spare wheel
The spare wheel can be classified as a temporary spare wheel depending on the size compared to the other mounted wheels and country regulations. In this case a permissible maximum speed applies, even though no label at the spare wheel indicates this.
Only mount one temporary spare wheel. Do not drive faster than 80 km/h. Take curves slowly. Do not use for a long period of time.
Caution
The use of a spare wheel that is smaller than the other wheels or in combination with winter tyres could affect driveability. Have the defective tyre replaced as soon as possible.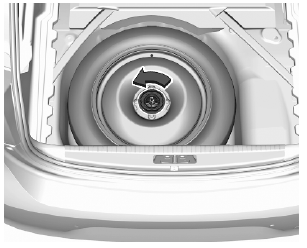 The spare wheel is located in the load compartment beneath the floor covering.
To remove:
Open the floor cover.
The temporary spare wheel is secured with a wing nut. Unscrew nut and take out the spare wheel.
When, after a wheel change, no wheel is placed in the spare wheel well, tighten the wing nut and close floor cover.
After wheel change back to full size wheel, place the temporary spare wheel outside up in the well and secure with the wing nut.
Only mount one temporary spare wheel. The permissible maximum speed on the label on the temporary spare wheel is only valid for the factory-fitted tyre size.