Opel Corsa: Tail lights. Number plate light. Interior lights / Tail lights
LED tail lights
Have lights repaired by a workshop in case of failure.
Light assembly in the body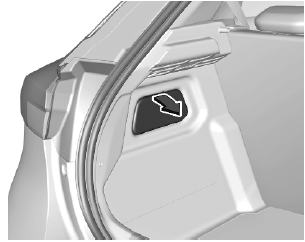 Open the tailgate then remove the access cover on the relevant side.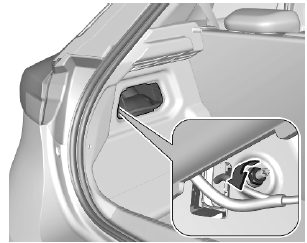 Slacken the lamp fixing nut using a box spanner or socket.

To avoid losing the nut if it drops into the wing trim, first place a cloth below it.

Manually unscrew and remove the lamp fixing nut.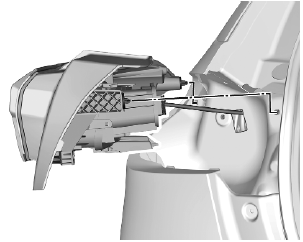 Carefully withdraw tail light assembly from the recess and remove.
Detach the cable from the retainer.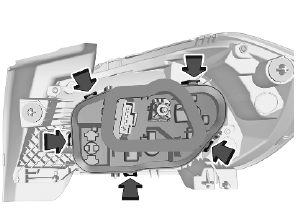 Press the five retaining lugs and remove the bulb carrier from the light assembly.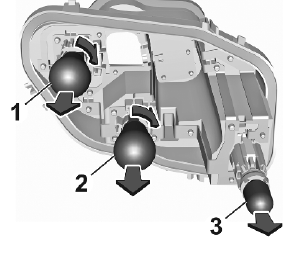 Remove and replace the bulbs:

Tail light / brake light (1)

Turn light (2)

Reverse light (3)

Insert the bulb carrier into the light assembly. Attach plug to the light assembly. Fit the light assembly in the recess and tighten the lamp fixing nut from the inside. Attach the cover.
Rear fog light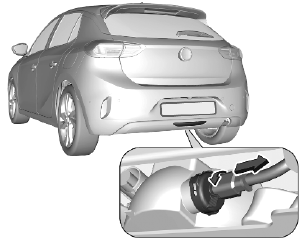 Turn the bulb holder anticlockwise and remove it from the reflector housing.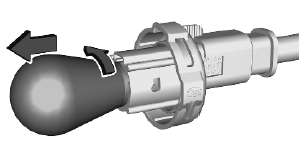 Slightly press down the bulb, turn it anticlockwise and remove it from the socket.
Replace and insert the new bulb into socket by turning clockwise.
Insert the bulb socket into the reflector and turn clockwise.
Centre high-mounted brake light
Have lights repaired by a workshop in case of failure.
Bulb check
Switch on the ignition, operate and check all lights.
Have lights repaired by a workshop in case of failure...
Other information:
Warning Only drive with the seat correctly adjusted. Warning Never adjust seats while driving as they could move uncontrollably. Danger Do not sit closer than 25 cm to the steering wheel, to permit safe airbag deployment. Warning Never store any objects under the seats. Sit with buttocks as far back against the backrest as possible. Adjust the distance between the seat and the pedals..
Battery voltage When the vehicle battery voltage is running low, a warning message will appear in the Driver Information Centre. When the vehicle is being driven, the load reduction function temporarily deactivates certain functions, such as the air conditioning, the heated rear window, heated steering wheel, etc. The deactivated functions are reactivated automatically as soon as conditio..