Opel Corsa: Tail lights. Number plate light. Interior lights / Tail lights
LED tail lights
Have lights repaired by a workshop in case of failure.
Light assembly in the body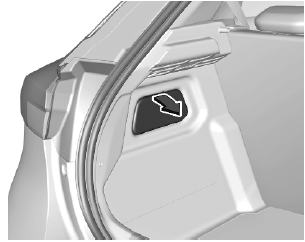 Open the tailgate then remove the access cover on the relevant side.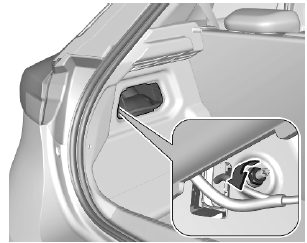 Slacken the lamp fixing nut using a box spanner or socket.

To avoid losing the nut if it drops into the wing trim, first place a cloth below it.

Manually unscrew and remove the lamp fixing nut.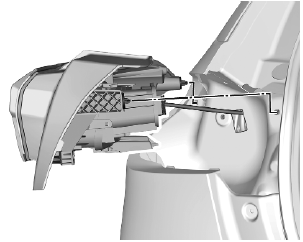 Carefully withdraw tail light assembly from the recess and remove.
Detach the cable from the retainer.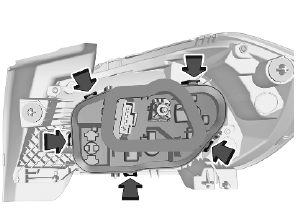 Press the five retaining lugs and remove the bulb carrier from the light assembly.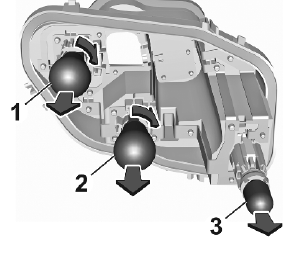 Remove and replace the bulbs:

Tail light / brake light (1)

Turn light (2)

Reverse light (3)

Insert the bulb carrier into the light assembly. Attach plug to the light assembly. Fit the light assembly in the recess and tighten the lamp fixing nut from the inside. Attach the cover.
Rear fog light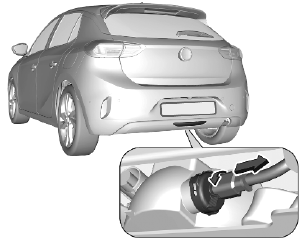 Turn the bulb holder anticlockwise and remove it from the reflector housing.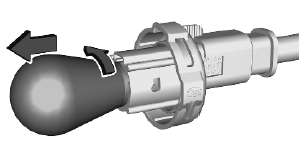 Slightly press down the bulb, turn it anticlockwise and remove it from the socket.
Replace and insert the new bulb into socket by turning clockwise.
Insert the bulb socket into the reflector and turn clockwise.
Centre high-mounted brake light
Have lights repaired by a workshop in case of failure.
Bulb check
Switch on the ignition, operate and check all lights.
Have lights repaired by a workshop in case of failure...
Other information:
Depending on the calculated range of AdBlue, different messages are displayed in the Driver Information Centre. The messages and the restrictions are a legal requirement. The first warning level is entered when the estimated AdBlue range is between 2400 km and 800 km. When switching on the ignition, this warning will show up once briefly with the calculated range. Additionally, c..
A 12 V power outlet is located in the centre console. Do not exceed the maximum power consumption of 120 W. With ignition off, the power outlets are deactivated. Additionally the power outlets are deactivated in the event of low vehicle battery voltage. Electrical accessories that are connected must comply with the electromagnetic compatibility requirements laid down in DIN VDE 40 839. D..