Opel Corsa: Tail lights. Number plate light. Interior lights / Tail lights
LED tail lights
Have lights repaired by a workshop in case of failure.
Light assembly in the body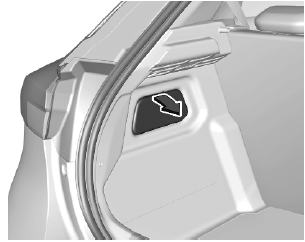 Open the tailgate then remove the access cover on the relevant side.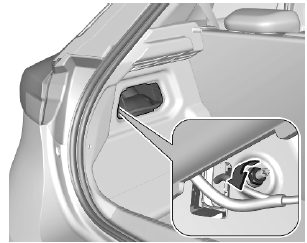 Slacken the lamp fixing nut using a box spanner or socket.

To avoid losing the nut if it drops into the wing trim, first place a cloth below it.

Manually unscrew and remove the lamp fixing nut.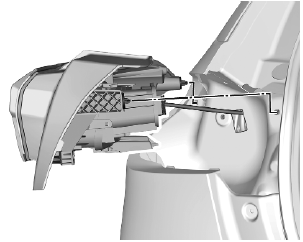 Carefully withdraw tail light assembly from the recess and remove.
Detach the cable from the retainer.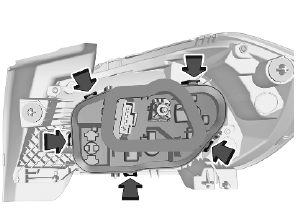 Press the five retaining lugs and remove the bulb carrier from the light assembly.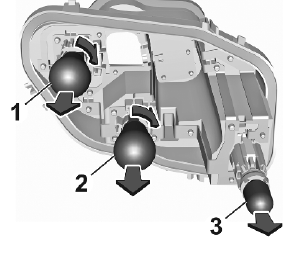 Remove and replace the bulbs:

Tail light / brake light (1)

Turn light (2)

Reverse light (3)

Insert the bulb carrier into the light assembly. Attach plug to the light assembly. Fit the light assembly in the recess and tighten the lamp fixing nut from the inside. Attach the cover.
Rear fog light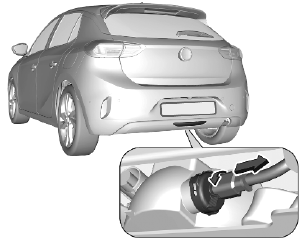 Turn the bulb holder anticlockwise and remove it from the reflector housing.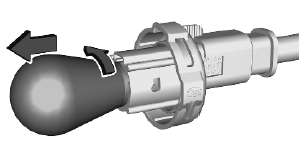 Slightly press down the bulb, turn it anticlockwise and remove it from the socket.
Replace and insert the new bulb into socket by turning clockwise.
Insert the bulb socket into the reflector and turn clockwise.
Centre high-mounted brake light
Have lights repaired by a workshop in case of failure.
Bulb check
Switch on the ignition, operate and check all lights.
Have lights repaired by a workshop in case of failure...
Other information:
We recommend the use of genuine parts and accessories and factory approved parts specific for your vehicle type. We cannot assess or guarantee reliability of other products - even if they have a regulatory or otherwise granted approval. Any modification, conversion or other changes made to standard vehicle specifications (including, without limitation, software modifications, modificatio..
After activation of brake preparation system and just before the imminent collision, this function automatically applies limited braking to reduce the impact speed of the collision or prohibit a crash. If active emergency braking is applied, flashes in the instrument cluster. Emergency automatic braking can only occur if a vehicle or a pedestrian ahead is detected. Below a speed of 30 km..