Opel Corsa: Electronic key system / Central locking button
Locks or unlocks all doors, the load compartment and fuel filler flap from inside the passenger compartment.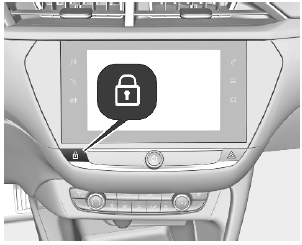 Press

to lock. The LED in the button illuminates.
Press

again to unlock. The LED in the button extinguishes.
Electronic key system operation This system allows automatic vehicle locking and unlocking simply by detection of the electronic key. The electronic key must be outside the vehicle...
In case of a fault, e.g. vehicle battery or remote control / electronic key battery is discharged, the front door can be locked or unlocked with the mechanical key...
Other information:
We recommend the use of genuine parts and accessories and factory approved parts specific for your vehicle type. We cannot assess or guarantee reliability of other products - even if they have a regulatory or otherwise granted approval. Any modification, conversion or other changes made to standard vehicle specifications (including, without limitation, software modifications, modificatio..
Turn key: 0 : ignition off: some functions remain active until key is removed or driver's door is opened, provided the ignition was on previously 1 : ignition on power mode: ignition is on, diesel engine is preheating, control indicators illuminate and most electrical functions are operable 2 : engine start: release key after engine has been started Steering wheel lock Remove key from ig..