Opel Corsa: Wheel changing / Tightening torques
Caution
If the vehicle is equipped with alloy wheels, tighten the wheel bolts manually at least for the first five turns.
There are two different types of wheels with two different bolts and tightening torques.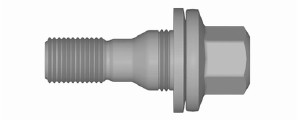 Tightening torque for alloy wheels is 115 Nm.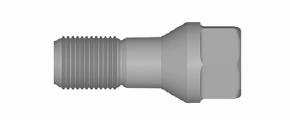 Tightening torque for steel wheels:
15" steel wheel bolts should been tightened with 100 Nm.
16" steel wheel bolts should been tightened with 115 Nm.
Use the correct wheel bolts for the respective wheels.
Make the following preparations and observe the following information: Park the vehicle on a level, firm and non-skid surface. The front wheels must be in the straightahead position...
The jacking positions shown refer to the use of lifting arms and accessory jacks used for changing winter / summer tyres. Rear arm position of the lifting platform centrically under the relevant vehicle jacking point...
Other information:
In some cases, the active emergency braking system may provide an automatic braking in situations that seem to be unnecessary, for instance in parking garages, due to various types of objects, i.e., traffic signs or vehicles in another lane. This is normal operation, the vehicle does not need service...
Turn key: 0 : ignition off: some functions remain active until key is removed or driver's door is opened, provided the ignition was on previously 1 : ignition on power mode: ignition is on, diesel engine is preheating, control indicators illuminate and most electrical functions are operable 2 : engine start: release key after engine has been started Steering wheel lock Remove key from ig..