Opel Corsa: Wheel changing / Tightening torques
Caution
If the vehicle is equipped with alloy wheels, tighten the wheel bolts manually at least for the first five turns.
There are two different types of wheels with two different bolts and tightening torques.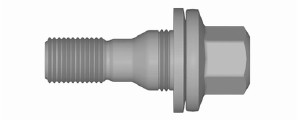 Tightening torque for alloy wheels is 115 Nm.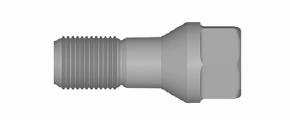 Tightening torque for steel wheels:
15" steel wheel bolts should been tightened with 100 Nm.
16" steel wheel bolts should been tightened with 115 Nm.
Use the correct wheel bolts for the respective wheels.
Make the following preparations and observe the following information: Park the vehicle on a level, firm and non-skid surface. The front wheels must be in the straightahead position...
The jacking positions shown refer to the use of lifting arms and accessory jacks used for changing winter / summer tyres. Rear arm position of the lifting platform centrically under the relevant vehicle jacking point...
Other information:
Caution Only use AdBlue that complies with European standards DIN 70 070 and ISO 22241-1. Do not use additives. Do not dilute AdBlue. Otherwise the selective catalytic reduction system could be damaged. Note Whenever a filling pump with a nozzle for passenger cars is not available at a filling station, use only AdBlue bottles or canisters with a sealed refill adapter for refilling, to pre..
Permissible options for fastening a child restraint system with a three-point seat belt U : universal suitability in conjunction with three-point seat belt L : suitable for particular child restraint systems of the 'specific-vehicle', 'restricted' or 'semi-universal' categories. The child restraint system must be approved for the specific vehicle type (refer to the vehicle type list of the ch..