Opel Corsa: Technical data / Vehicle data
Recommended fluids and lubricants
Required engine oil quality
Countries included in country groups 1 to 3

Engine EC5F: B71 2290, B71 2296 or B71 300 may also be used.
Countries included in country group 4

Countries included in country group 5

Engine oil viscosity grades

Engine data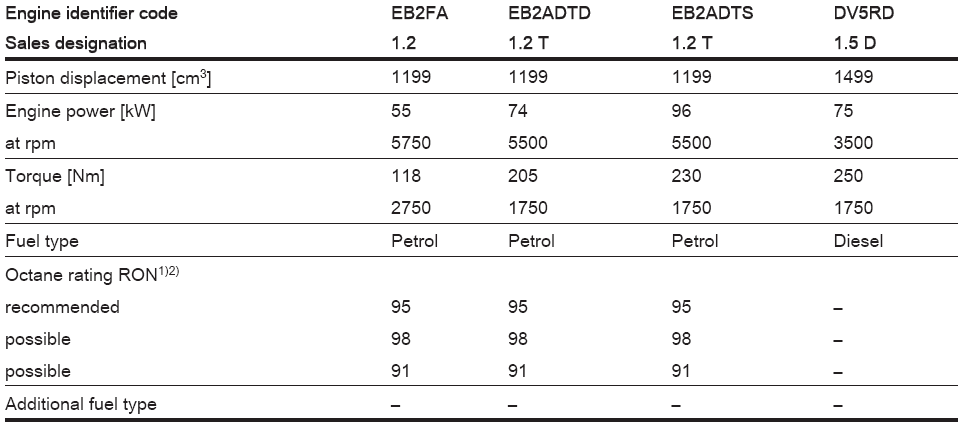 1) A country specific label at the fuel filler flap can supersede the engine specific requirement.
2) In certain countries, the use of a particular fuel, e.g. a specific octane rating, may be required to ensure proper engine operation.
Performance
Vehicle dimensions

Capacities
Engine oil

Fuel tank

AdBlue tank

Tyre pressures

Vehicle identification number The Vehicle Identification Number may be embossed on the instrument panel, visible through the windscreen, or in the engine compartment on the right body panel...
Other information:
The airbag system consists of a number of individual systems depending on the scope of equipment. When triggered, the airbags inflate within milliseconds. They also deflate so quickly that it is often unnoticeable during the collision. Warning The airbag system deploys in an explosive manner, repairs must be performed by skilled personnel only. Warning Adding accessories that change the ..
Fault In the event of a fault, illuminates a message is displayed in the Driver Information Centre. Electronic transmission control enables only third gear. The transmission no longer shifts automatically. Do not drive faster than 100 km/h. Have the cause of the fault remedied by a workshop. Interruption of power supply In the event of an interruption of power supply, the selector lever ..