Opel Corsa: Technical data / Vehicle data
Recommended fluids and lubricants
Required engine oil quality
Countries included in country groups 1 to 3

Engine EC5F: B71 2290, B71 2296 or B71 300 may also be used.
Countries included in country group 4

Countries included in country group 5

Engine oil viscosity grades

Engine data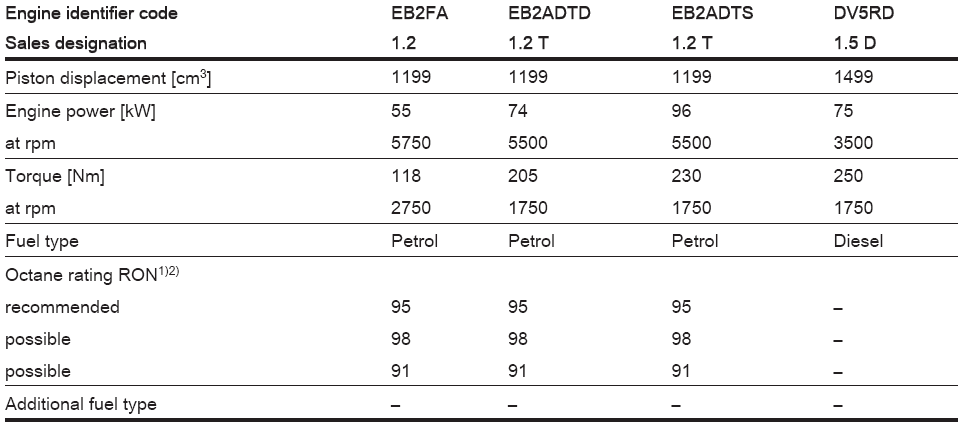 1) A country specific label at the fuel filler flap can supersede the engine specific requirement.
2) In certain countries, the use of a particular fuel, e.g. a specific octane rating, may be required to ensure proper engine operation.
Performance
Vehicle dimensions

Capacities
Engine oil

Fuel tank

AdBlue tank

Tyre pressures

Vehicle identification number The Vehicle Identification Number may be embossed on the instrument panel, visible through the windscreen, or in the engine compartment on the right body panel...
Other information:
In left-hand drive vehicles, the fuse box is behind a cover in the instrument panel. Disengage cover at the bottom side and remove. In right-hand drive vehicles, the fuse box is located behind a cover in the glovebox. Open the glovebox and remove the cover. No. Circuit 1 Radar / Interior mirror 3 Inductive charging 4 Horn 5 Windscreen wa..
Lane keep assist supports the driver to avoid unintended leaving of the lane. The front camera observes road edges, as well as the lane markings between which the vehicle is driving. If the vehicle approaches a road edge or a lane marking, the steering wheel is gently turned to position so that the vehicle turns back into the lane. The driver will then notice a turning movement of the st..