Opel Corsa: Technical data / Vehicle data
Recommended fluids and lubricants
Required engine oil quality
Countries included in country groups 1 to 3

Engine EC5F: B71 2290, B71 2296 or B71 300 may also be used.
Countries included in country group 4

Countries included in country group 5

Engine oil viscosity grades

Engine data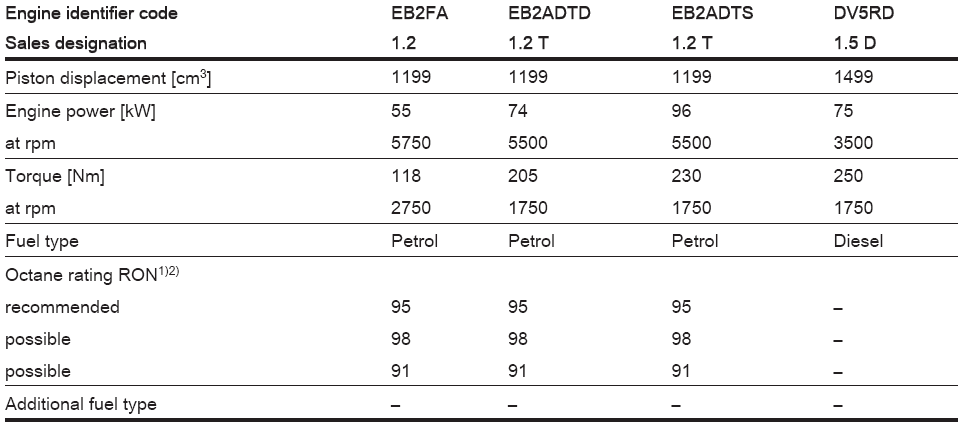 1) A country specific label at the fuel filler flap can supersede the engine specific requirement.
2) In certain countries, the use of a particular fuel, e.g. a specific octane rating, may be required to ensure proper engine operation.
Performance
Vehicle dimensions

Capacities
Engine oil

Fuel tank

AdBlue tank

Tyre pressures

Vehicle identification number The Vehicle Identification Number may be embossed on the instrument panel, visible through the windscreen, or in the engine compartment on the right body panel...
Other information:
Convex shape The shape of the mirror makes objects appear smaller, which will affect the ability to estimate distances. Electric adjustment Select the relevant exterior mirror by pushing to the left or right. Then swivel the control to adjust the mirror. Folding mirrors For pedestrian safety, the exterior mirrors will swing out of their normal mounting position if they are struck with s..
Automatic operation of electric parking brake off illuminates yellow. Illuminates Automatic operation is deactivated or faulty. In the event of a fault, illuminates together with other control indicators or it is accompanied by a corresponding message in the Driver Information Centre. Activate automatic operation again or have the cause remedied by a workshop in the event of a fault. Anti..