Opel Corsa: Technical data / Vehicle data
Recommended fluids and lubricants
Required engine oil quality
Countries included in country groups 1 to 3

Engine EC5F: B71 2290, B71 2296 or B71 300 may also be used.
Countries included in country group 4

Countries included in country group 5

Engine oil viscosity grades

Engine data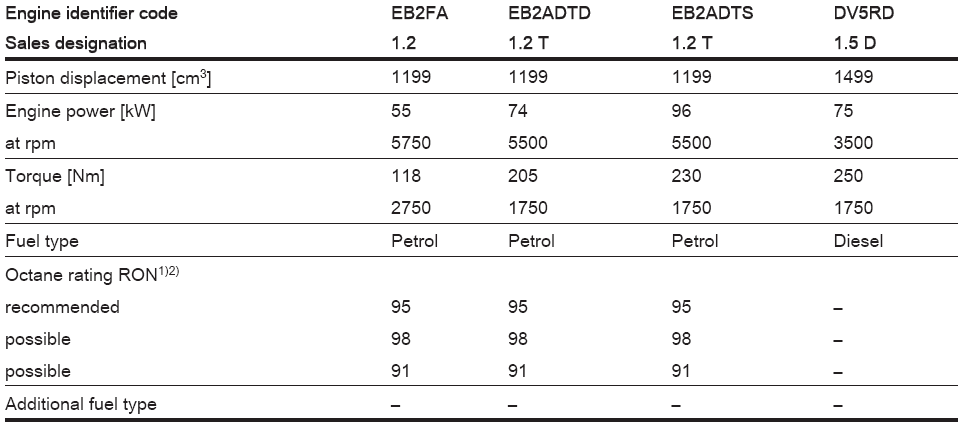 1) A country specific label at the fuel filler flap can supersede the engine specific requirement.
2) In certain countries, the use of a particular fuel, e.g. a specific octane rating, may be required to ensure proper engine operation.
Performance
Vehicle dimensions

Capacities
Engine oil

Fuel tank

AdBlue tank

Tyre pressures

Vehicle identification number The Vehicle Identification Number may be embossed on the instrument panel, visible through the windscreen, or in the engine compartment on the right body panel...
Other information:
It is always possible to drive faster than the selected set speed by depressing the accelerator pedal. When the accelerator pedal is released, the vehicle returns to the stored speed. If a slower moving vehicle is ahead, the following distance selected by the driver is restored. If the set speed is exceeded, the indicated speed setting disappears and a warning message is displayed. Warni..
This mode deactivates electrical consumers to avoid excessive discharging of the vehicle battery. These consumers, such as the Infotainment system, windscreen wipers, low beam headlights, courtesy light, etc. can be used for a total maximum time of about 40 minutes after ignition is switched off. Changing into power saving mode When power saving mode is activated, a message appears in th..