Opel Corsa: Technical data / Vehicle data
Recommended fluids and lubricants
Required engine oil quality
Countries included in country groups 1 to 3

Engine EC5F: B71 2290, B71 2296 or B71 300 may also be used.
Countries included in country group 4

Countries included in country group 5

Engine oil viscosity grades

Engine data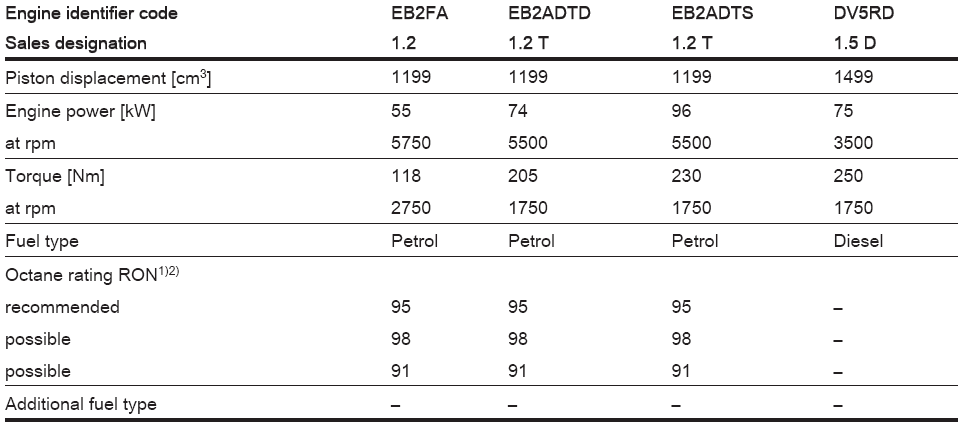 1) A country specific label at the fuel filler flap can supersede the engine specific requirement.
2) In certain countries, the use of a particular fuel, e.g. a specific octane rating, may be required to ensure proper engine operation.
Performance
Vehicle dimensions

Capacities
Engine oil

Fuel tank

AdBlue tank

Tyre pressures

Vehicle identification number The Vehicle Identification Number may be embossed on the instrument panel, visible through the windscreen, or in the engine compartment on the right body panel...
Other information:
Check tread depth at regular intervals. Tyres should be replaced for safety reasons at a tread depth of 2-3 mm (4 mm for winter tyres). For safety reasons, it is recommended that the tread depth of the tyres on one axle should not vary by more than 2 mm. The legally permissible minimum tread depth (1.6 mm) has been reached when the tread has worn down as far as one of the tread wear indi..
In the event of a fault or if the system does not work temporarily, e.g. because of high external noise level or other interference factors, illuminates in the instrument cluster. A message is displayed in the Driver Information Centre and a warning chime sounds. Warning Under certain circumstances, various reflective surfaces on objects or clothing as well as external noise sources may..