Opel Corsa: Technical data / Vehicle identification
Vehicle identification number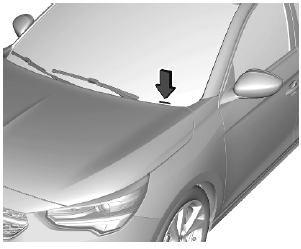 The Vehicle Identification Number may be embossed on the instrument panel, visible through the windscreen, or in the engine compartment on the right body panel.
Identification plate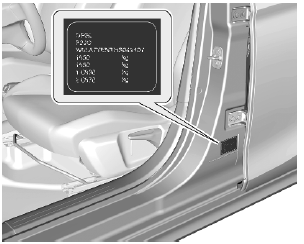 The identification plate is located on the front left or right door frame.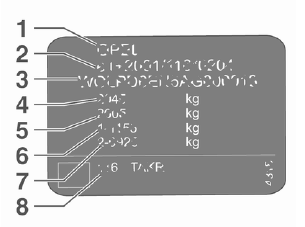 Information on identification label:
1 : manufacturer
2 : type approval number
3 : vehicle identification number
4 : permissible gross vehicle weight rating in kg
5 : permissible gross train weight in kg
6 : maximum permissible front axle load in kg
7 : maximum permissible rear axle load in kg
8 : vehicle-specific or countryspecific data
The combined total of front and rear axle loads must not exceed the permissible gross vehicle weight.
Vehicle's kerb weight depends on the specification of the vehicle, e.g. optional equipment and accessories. Refer to the EEC Certificate of Conformity provided with your vehicle or other national registration documents.
The technical data is determined in accordance with European Community standards. We reserve the right to make modifications.
Specifications in the vehicle documents always have priority over those given in this manual.
Engine identification
The technical data tables show the engine identifier code.
To identify the respective engine, refer to the engine power in the EEC Certificate of Conformity provided with your vehicle or other national registration documents.
Recommended fluids and lubricants Required engine oil quality Countries included in country groups 1 to 3 Engine EC5F: B71 2290, B71 2296 or B71 300 may also be used...
Other information:
Lane keep assist supports the driver to avoid unintended leaving of the lane. The front camera observes road edges, as well as the lane markings between which the vehicle is driving. If the vehicle approaches a road edge or a lane marking, the steering wheel is gently turned to position so that the vehicle turns back into the lane...
The radar unit is located in the middle of the front bumper. Warning The radar unit was aligned carefully during manufacture. Therefore, in the event of a frontend impact, do not use the system. The front bumper may appear to be intact, however the sensor behind may be affected and react incorrectly...