Opel Corsa: Technical data / Vehicle identification
Vehicle identification number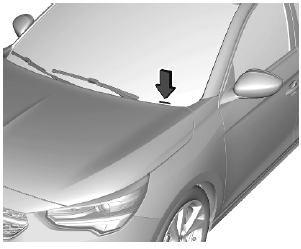 The Vehicle Identification Number may be embossed on the instrument panel, visible through the windscreen, or in the engine compartment on the right body panel.
Identification plate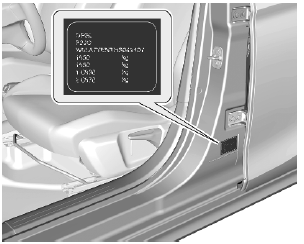 The identification plate is located on the front left or right door frame.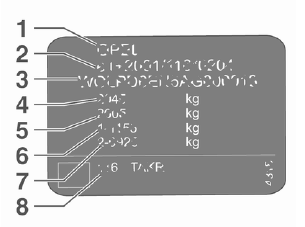 Information on identification label:
1 : manufacturer
2 : type approval number
3 : vehicle identification number
4 : permissible gross vehicle weight rating in kg
5 : permissible gross train weight in kg
6 : maximum permissible front axle load in kg
7 : maximum permissible rear axle load in kg
8 : vehicle-specific or countryspecific data
The combined total of front and rear axle loads must not exceed the permissible gross vehicle weight.
Vehicle's kerb weight depends on the specification of the vehicle, e.g. optional equipment and accessories. Refer to the EEC Certificate of Conformity provided with your vehicle or other national registration documents.
The technical data is determined in accordance with European Community standards. We reserve the right to make modifications.
Specifications in the vehicle documents always have priority over those given in this manual.
Engine identification
The technical data tables show the engine identifier code.
To identify the respective engine, refer to the engine power in the EEC Certificate of Conformity provided with your vehicle or other national registration documents.
Recommended fluids and lubricants Required engine oil quality Countries included in country groups 1 to 3 Engine EC5F: B71 2290, B71 2296 or B71 300 may also be used...
Other information:
The Diesel engines are compatible with bio-fuels that conform to current and future European standards and and can be obtained from filling stations: Diesel fuel that meets standard EN590 mixed with a biofuel that meets standard EN14214 (possibly containing up to 7% Fatty Acid Methyl Ester)...
Vehicle locator lighting This function allows to locate the vehicle, e.g., in weak lighting conditions using the remote control. The headlights come on and the turn lights flash for 10 seconds. Press on the remote control. Peripheral lighting Peripheral lighting allows you to switch on the position lights, low beam and number plate lighting using the remote control...