Opel Corsa: Vehicle battery / Warning label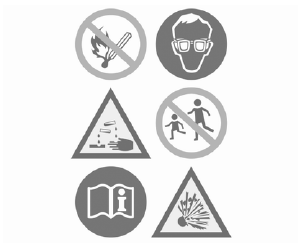 Meaning of symbols:
No sparks, naked flames or smoking.
Always shield eyes. Explosive gases can cause blindness or injury.
The vehicle battery contains sulphuric acid which could cause blindness or serious burn injuries.
Keep the vehicle battery out of reach of children.
See the Owner's Manual for further information.
Explosive gas may be present in the vicinity of the vehicle battery.
Categories
Copyright © 2023 www.opcorsaf.com