Opel Corsa: Vehicle security / Anti-theft locking system
Warning
Do not use the system if there are people in the vehicle! The doors cannot be unlocked from the inside.
The system deadlocks all the doors. All doors must be closed otherwise the system cannot be activated.
Unlocking the vehicle disables the mechanical anti-theft locking system. This is not possible with the central locking button.
Activating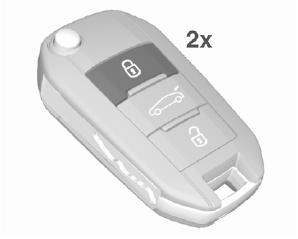 Press

on the radio remote control twice within 5 seconds.
The anti-theft alarm system is combined with the anti-theft locking system. It monitors: doors, tailgate, bonnet passenger compartment including adjoining load compartment ignition Activation All doors, the load compartment and the engine compartment must be closed and the electronic key must not remain in the vehicle...
Other information:
Activation Slow down the vehicle speed below 30 km/h. To search for a parking slot, activate the system in the Info Display. Select the perpendicular parking slot menu. Select parking side by switching on the turn light on the respective side. The allowed parallel distance between the vehicle and a row of parked cars is between 0...
The radar unit is located in the middle of the front bumper. Warning The radar unit was aligned carefully during manufacture. Therefore, in the event of a frontend impact, do not use the system. The front bumper may appear to be intact, however the sensor behind may be affected and react incorrectly...