Opel Corsa: Vehicle security / Anti-theft locking system
Warning
Do not use the system if there are people in the vehicle! The doors cannot be unlocked from the inside.
The system deadlocks all the doors. All doors must be closed otherwise the system cannot be activated.
Unlocking the vehicle disables the mechanical anti-theft locking system. This is not possible with the central locking button.
Activating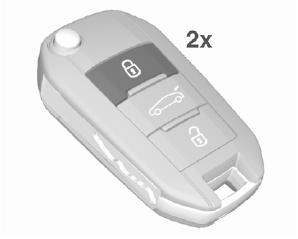 Press

on the radio remote control twice within 5 seconds.
The anti-theft alarm system is combined with the anti-theft locking system. It monitors: doors, tailgate, bonnet passenger compartment including adjoining load compartment ignition Activation All doors, the load compartment and the engine compartment must be closed and the electronic key must not remain in the vehicle...
Other information:
Rear window wiper OFF : off INT : intermittent operation ON : continuous operation Do not use if the rear window is frozen. Switch off in car washes. The rear window wiper comes on automatically when the windscreen wiper is switched on and reverse gear is engaged...
Remove the protective cover by pulling. Rotate the bulb socket anticlockwise to disengage and withdraw from the reflector. Insert the new bulb socket into the reflector housing. Fit the protective cover on. ..