Opel Corsa: Keys, doors and windows / Doors
Load compartment
Tailgate
Opening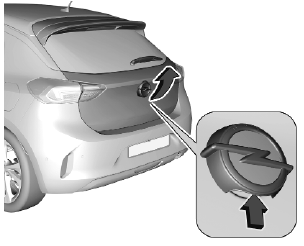 After unlocking, press the tailgate button below the brand emblem and open the tailgate.
Closing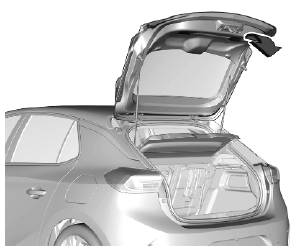 Use the interior handle.
Do not push the touchpad whilst closing as this will unlock the tailgate again.
Warning Use the child locks whenever children are occupying the rear seats. Mechanical child locks Turn the red child lock in the rear door inwards to the horizontal position by using a key...
Other information:
Automatic operation of electric parking brake off illuminates yellow. Illuminates Automatic operation is deactivated or faulty. In the event of a fault, illuminates together with other control indicators or it is accompanied by a corresponding message in the Driver Information Centre. Activate automatic operation again or have the cause remedied by a workshop in the event of a fault. Anti..
Winter tyres Winter tyres improve driving safety at temperatures below 7 °C and should therefore be fitted on all wheels. In accordance with country-specific regulations, affix the speed sticker in the driver's field of view. All tyre sizes are permitted as winter tyres. Tyre designations E.g. 225/55 R 18 98 V 225 : tyre width, mm 55 : cross-section ratio (tyre height to tyre width), % ..
Categories
Copyright © 2023 www.opcorsaf.com