Opel Corsa: Advanced parking assist / Entry into a parallel parking slot
Activation
Slow down the vehicle speed below 30 km/h.
To search for a parking slot, activate the system in the Info Display.
Select the parallel parking slot menu. Select parking side by switching on the turn light on the respective side.
The allowed parallel distance between the vehicle and a row of parked cars is between 0.5 m and 1.5 m.
The system will not identify slots that are clearly smaller or larger than the vehicle.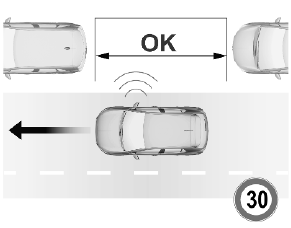 When a free slot is detected, a visual feedback on the Info Display and a first acoustic signal are given. Drive slowly forwards. When the second acoustic signal is given, stop the vehicle, select reverse gear, release the steering wheel and start moving slowly. A visual feedback is given on the Info Display.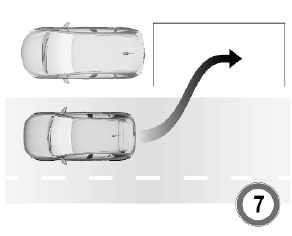 Move forwards and backwards while observing the warnings of the parking assist until the end of manoeuvre is indicated.