Opel Corsa: Advanced parking assist / Exiting a parallel parking slot
Activation
When exiting a parallel parking slot, activate the system in the Info Display.
Select the exiting a parallel parking slot menu.
Select exit side by switching on the respective turn light.
Engage reverse or forward gear, release the steering wheel and start moving without exceeding 5 km/h.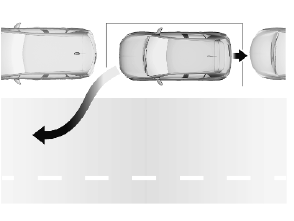 Move forwards and backwards while observing the warnings of the parking assist until the end of manoeuvre is indicated.
The manoeuvre is complete when the vehicle's front wheels are out of the parking slot.
After deactivation check control over the vehicle.
Activation Slow down the vehicle speed below 30 km/h. To search for a parking slot, activate the system in the Info Display. Select the perpendicular parking slot menu...
The instructions on the display show: general hints and warning messages the demand to stop the vehicle, when a parking slot is detected the direction of driving during the parking manoeuvre the demand to shift into reverse or first gear the demand to stop or to drive slowly the successful completion of the parking manoeuvre indicated by a pop-up symbol and a chime the cancel..
Other information:
The anti-theft alarm system is combined with the anti-theft locking system. It monitors: doors, tailgate, bonnet passenger compartment including adjoining load compartment ignition Activation All doors, the load compartment and the engine compartment must be closed and the electronic key must not remain in the vehicle. The system is self-activated 45 seconds after locking the vehicl..
Position Warning Only drive with the head restraint set to the proper position. The upper edge of the head restraint should be at upper head level. If this is not possible for extremely tall people, set to highest position, and set to lowest position for small people. Height adjustment Head restraints on front seats Pull the head restraint upwards or press the catch to release and push th..