Opel Corsa: Warning lights, gauges and indicators / Speedometer, Odometer, Trip odometer and Tachometer
Speedometer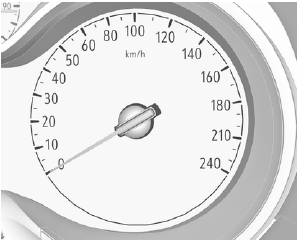 Indicates vehicle speed.
Odometer
The total recorded distance is displayed in km.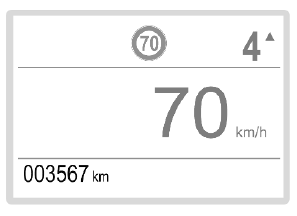 Trip odometer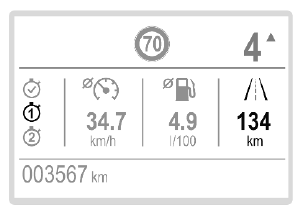 The recorded distance since the last reset is displayed in the Driver Information Centre.
Two trip odometer pages are selectable in the trip / fuel information menu for different trips.
Trip odometer counts up to 9,999 km.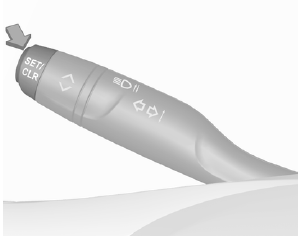 Press SET / CLR for 2 seconds to reset the trip odometer.
Tachometer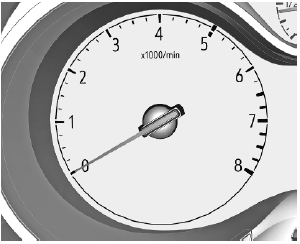 Displays the engine speed.
Drive in a low engine speed range for each gear as much as possible.
A red marker indicates the beginning of the warning zone of excessive revolutions. For Diesel engines, the warning zone starts at 5000 revolutions per minute. For petrol engines, the warning zone starts at 6500 revolutions per minute.
Caution
If the needle is in the red warning zone, the maximum permitted engine speed is exceeded. Engine at risk.
Fuel gauge Control indicator illuminates if the fuel level is low. Never run the fuel tank dry. The top-up quantity may be less than the specified fuel tank capacity, due to the remaining fuel in the tank...
Other information:
LED tail lights Have lights repaired by a workshop in case of failure. Light assembly in the body Open the tailgate then remove the access cover on the relevant side. Slacken the lamp fixing nut using a box spanner or socket.To avoid losing the nut if it drops into the wing trim, first place a cloth below it...
Do not start with quick charger. A vehicle with a discharged vehicle battery can be started using jump leads and the vehicle battery of another vehicle. Warning Be extremely careful when starting with jump leads. Any deviation from the following instructions can lead to injuries or damage caused by battery explosion or damage to the electrical systems of both vehicles...