Opel Corsa: Controls / Inductive charging
Warning
Inductive charging can affect the operation of implanted pacemakers or other medical devices. If applicable, seek medical advice before using the inductive charging device.
Warning
Remove any metal objects from the charging device before charging a mobile device, as these objects could become very hot.
To charge a device, the ignition must be switched on.
To charge a mobile device: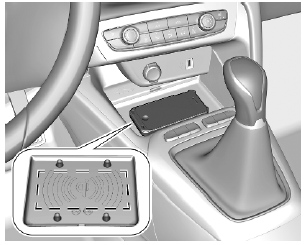 Remove all objects from the charging device.
Place the mobile device with the display facing upwards on the charging area. Note that the mobile device must not be placed on the positioning aids located above and below the charging area.
Qi compatible mobile devices can be charged inductively.
On some mobile devices, a back cover with an integrated coil or a jacket may be required to use inductive charging.
Protective cover for the mobile device could have impact on the inductive charging.
In the event that the mobile device is not charging properly, rotate it 180° and place it on the charging device again.
Status LED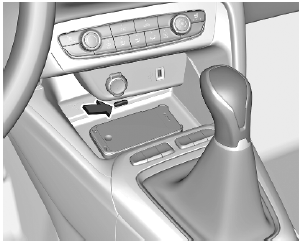 The LED indicates the current charging status.
Illuminates green
The mobile device is charging.
Flashes yellow
The mobile device has not been centred properly in the charging zone or an unknown object has been detected in the charging zone.
Illuminates yellow
There is a problem with the mobile device's battery or a fault of the inductive charger has been detected. If the problem persists, seek