Opel Corsa: Storage / Loading information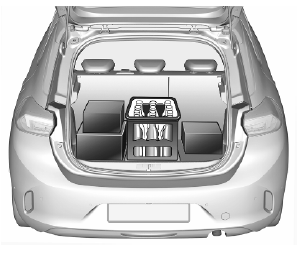 Heavy objects in the load compartment should be placed against the seat backrests. Make sure that the backrests are securely engaged. If objects can be stacked, heavier objects should be placed at the bottom.
Prevent sliding of loose objects by securing them with straps attached to the lashing eyes.
Do not allow the load to protrude above the upper edge of the backrests.
Do not place any objects on the load compartment cover or the instrument panel, and do not cover the sensor on top of the instrument panel.
The load must not obstruct the operation of the pedals, parking brake and gear selector, or hinder the freedom of movement of the driver. Do not place any unsecured objects in the interior.
Do not drive with an open load compartment.
Warning
Always make sure that the load in the vehicle is securely stowed. Otherwise objects can be thrown around inside the vehicle and cause personal injury or damage to the load or car.
The payload is the difference between the permitted gross vehicle weight (see identification plate) and the EC kerb weight.

To calculate the payload, enter the data for your vehicle in the weights table at the front of this manual.

The EC kerb weight includes weights for the driver (68 kg), luggage (7 kg) and all fluids (fuel tank 90% full).

Optional equipment and accessories increase the kerb weight.

Driving with a roof load increases the sensitivity of the vehicle to cross-winds and has a detrimental effect on vehicle handling due to the vehicle's higher centre of gravity.

Distribute the load evenly and secure it properly with retaining straps. Adjust the tyre pressure and vehicle speed according to the load conditions. Check and retighten the straps frequently.

Do not drive faster than 120 km/h.

The permissible roof load is 70 kg. Do not exceed a loading height of 40 cm. The roof load is the combined weight of the roof rack and the load.
Roof rack For safety reasons and to avoid damage to the roof, the vehicle approved roof rack system is recommended. For further information, contact your workshop...
Other information:
Smart brake assist provides a boost to braking when the brake pedal is quickly applied. The braking is based on the speed of approach and distance to a vehicle ahead. Minor brake pedal pulsations or pedal movement during this time is normal and the brake pedal should continue to be applied as needed. Intelligent brake assist will automatically disengage only when the brake pedal is relea..
Lane keep assist supports the driver to avoid unintended leaving of the lane. The front camera observes road edges, as well as the lane markings between which the vehicle is driving. If the vehicle approaches a road edge or a lane marking, the steering wheel is gently turned to position so that the vehicle turns back into the lane. The driver will then notice a turning movement of the st..
Categories
Copyright © 2023 www.opcorsaf.com