Opel Corsa: Controls / Outside temperature. Clock
Outside temperature
A drop in temperature is indicated immediately and a rise in temperature after a time delay.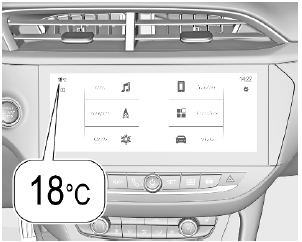 Illustration shows an example.
If outside temperature drops to a certain temperature, a warning message is displayed in the Driver Information Centre.
Warning
The road surface may already be icy even though the display indicates a few degrees above 0 °C.
Clock
Date and time are shown in the Info Display.
The adjustment of date and time is described in the Infotainment Manual.