Opel Corsa: Controls / Outside temperature. Clock
Outside temperature
A drop in temperature is indicated immediately and a rise in temperature after a time delay.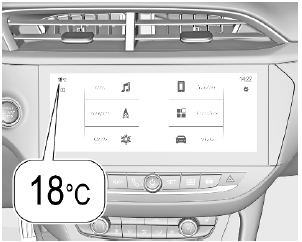 Illustration shows an example.
If outside temperature drops to a certain temperature, a warning message is displayed in the Driver Information Centre.
Warning
The road surface may already be icy even though the display indicates a few degrees above 0 °C.
Clock
Date and time are shown in the Info Display.
The adjustment of date and time is described in the Infotainment Manual.
Rear window wiper OFF : off INT : intermittent operation ON : continuous operation Do not use if the rear window is frozen. Switch off in car washes...
A 12 V power outlet is located in the centre console. Do not exceed the maximum power consumption of 120 W. With ignition off, the power outlets are deactivated...
Other information:
The following conditions must be fulfilled for proper operation: all vehicles are moving in the same direction and in adjacent lanes depending on the configuration of the vehicle, the speed of your vehicle is between 12 or 33 and 140 km/h passing a vehicle with a speed difference of less than 10 km/h another vehicle is passing with a speed difference of less than 25 km/h the..
Only use towing equipment that has been approved for your vehicle. Entrust retrofitting of towing equipment to a workshop. It may be necessary to make changes that affect the cooling system, heat shields or other equipment. The bulb outage detection function for trailer brake light cannot detect a partial bulb outage. E.g. in case of four bulbs with a power of 5 W each, the function only ..