Opel Corsa: System limitations / Panoramic view system
This system allows views of the vehicle's surroundings to be displayed as a nearly 180° picture in the Info Display, like a bird's eye view.
The system uses:
rear camera, installed in the rear bumper
ultrasonic parking sensors in the rear bumper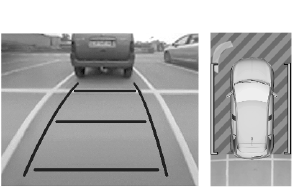 The screen in the Info display is divided into two parts. On the right there is a view from above the vehicle, and on the left there is the view from the rear displayed. The parking sensors complete the information on the view from above the vehicle.
When steering towards the detected vehicle is attemped, the driver will then notice a turning movement of the steering wheel towards the opposite side...
The panoramic view system is activated by: engaging reverse gear driving up to 13 km/h ..
Other information:
In the following cases, front pedestrian protection may not detect a pedestrian ahead or sensor performance is limited: vehicle speed is out of range from 5 km/h to 80 km/h in forward gear driving on winding or hilly roads driving in the dark weather limits visibility, such as fog, rain, or snow the sensor in the windscreen or the radar unit behind the front bumper are blocked by sn..
Activation Slow down the vehicle speed below 30 km/h. To search for a parking slot, activate the system in the Info Display. Select the parallel parking slot menu. Select parking side by switching on the turn light on the respective side. The allowed parallel distance between the vehicle and a row of parked cars is between 0.5 m and 1.5 m. The system will not identify slots that are clearl..