Opel Corsa: System limitations / Panoramic view system
This system allows views of the vehicle's surroundings to be displayed as a nearly 180° picture in the Info Display, like a bird's eye view.
The system uses:
rear camera, installed in the rear bumper
ultrasonic parking sensors in the rear bumper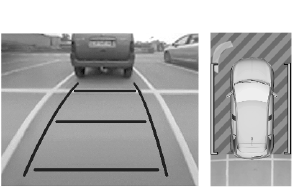 The screen in the Info display is divided into two parts. On the right there is a view from above the vehicle, and on the left there is the view from the rear displayed. The parking sensors complete the information on the view from above the vehicle.
When steering towards the detected vehicle is attemped, the driver will then notice a turning movement of the steering wheel towards the opposite side...
The panoramic view system is activated by: engaging reverse gear driving up to 13 km/h ..
Other information:
The rear view camera assists the driver when reversing by displaying a view of the area behind the vehicle. The view of the camera is displayed in the Info Display. Warning The rear view camera does not replace driver vision. Note that objects that are outside the camera's field of view and the parking assist sensors, e.g. below the bumper or underneath the vehicle, are not displayed. Do ..
Warning The system's automatic brake force does not permit hard braking and the braking level may not be sufficient to avoid a collision. After a sudden lane change, the system needs a certain time to detect the next preceding vehicle. So if a new vehicle is detected, the system may accelerate instead of braking. The adaptive cruise control does ignore the oncoming traffic. The ..