Opel Corsa: System limitations / Panoramic view system
This system allows views of the vehicle's surroundings to be displayed as a nearly 180° picture in the Info Display, like a bird's eye view.
The system uses:
rear camera, installed in the rear bumper
ultrasonic parking sensors in the rear bumper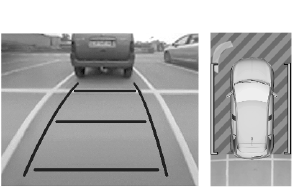 The screen in the Info display is divided into two parts. On the right there is a view from above the vehicle, and on the left there is the view from the rear displayed. The parking sensors complete the information on the view from above the vehicle.
When steering towards the detected vehicle is attemped, the driver will then notice a turning movement of the steering wheel towards the opposite side...
The panoramic view system is activated by: engaging reverse gear driving up to 13 km/h ..
Other information:
Manual mode M can be activated from position D in each driving situation and speed. Press button M. Pull steering wheel paddles to select gears manually. Pull right paddle + to shift to a higher gear. Pull left paddle - to shift to a lower gear. Multiple pulls allow gears to be skipped. The selected gear is indicated in the instrument cluster. If a higher gear is selected when vehicle spe..
Electronic Stability Control and Traction Control system Electronic stability control improves driving stability when necessary, regardless of the type of road surface or tyre grip. As soon as the vehicle starts to swerve (understeer / oversteer), engine output is reduced and the wheels are braked individually. Electronic stability control operates in combination with the traction control ..