Opel Corsa: Diesel fuel system bleeding. Wiper blade replacement / Windscreen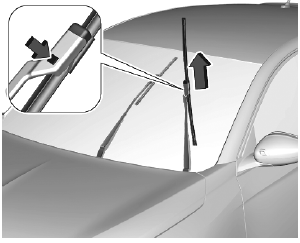 Switch off ignition.
Within one minute after switching off ignition, operate the wiper lever to position the wiper blades vertically on the windscreen.
Lift the wiper arm until it stays in the raised position, press button to disengage the wiper blade and remove.
Attach the new wiper blade to the wiper arm and push until it engages.
Lower wiper arm carefully.
To return the wiper arms to their original position, switch on the ignition and operate the wiper lever.
Diesel fuel system bleeding If the tank has been run dry, the diesel fuel system must be bled. Refuel at least five lieter diesel. Switch on the ignition for about 60 seconds and switch off again...
Lift wiper arm. Disengage wiper blade as shown in illustration and remove. Attach the wiper blade slightly angled to the wiper arm and push until it engages...
Other information:
We recommend the use of genuine parts and accessories and factory approved parts specific for your vehicle type. We cannot assess or guarantee reliability of other products - even if they have a regulatory or otherwise granted approval. Any modification, conversion or other changes made to standard vehicle specifications (including, without limitation, software modifications, modificatio..
Fault In the event of a fault, illuminates a message is displayed in the Driver Information Centre. Electronic transmission control enables only third gear. The transmission no longer shifts automatically. Do not drive faster than 100 km/h. Have the cause of the fault remedied by a workshop. Interruption of power supply In the event of an interruption of power supply, the selector lever ..