Opel Corsa: Diesel fuel system bleeding. Wiper blade replacement / Windscreen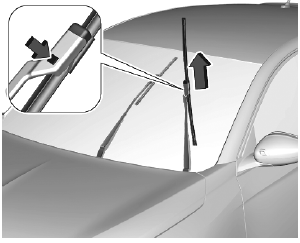 Switch off ignition.
Within one minute after switching off ignition, operate the wiper lever to position the wiper blades vertically on the windscreen.
Lift the wiper arm until it stays in the raised position, press button to disengage the wiper blade and remove.
Attach the new wiper blade to the wiper arm and push until it engages.
Lower wiper arm carefully.
To return the wiper arms to their original position, switch on the ignition and operate the wiper lever.