Opel Corsa: Info Display / Radio (Infotainment system)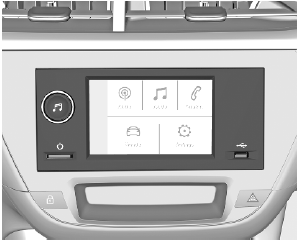 Press
to switch on the display.
Touch

to select system settings (units, language, time and date).
Touch

to select vehicle settings or driving functions.
Confirm a required function or selection by touching.
Touch
on the display to return to the previous page.
The illustrations show different variants of the infotainment system. Selecting menus and settings There are three options to operate the display: via buttons next to the display by touching the touchscreen with the finger via speech recognition Button and touch operation Press to switch on the display...
Other information:
The seat belts are locked during heavy acceleration or deceleration of the vehicle, holding the occupants in the seat position. Therefore the risk of injury is considerably reduced. Warning Fasten seat belt before each trip. In the event of an accident, people not wearing seat belts endanger their fellow occupants and themselves...
Rear floor storage cover The rear floor cover can be lifted and removed. Use opening to raise the rear floor cover and then remove it. Lashing eyes The lashing eyes are designed to secure items against slippage, e.g. using lashing straps or luggage net...