Opel Corsa: Info Display / Radio (Infotainment system)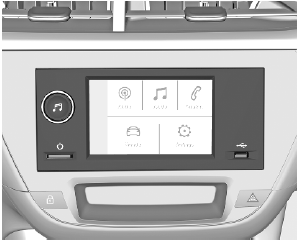 Press
to switch on the display.
Touch

to select system settings (units, language, time and date).
Touch

to select vehicle settings or driving functions.
Confirm a required function or selection by touching.
Touch
on the display to return to the previous page.
The illustrations show different variants of the infotainment system. Selecting menus and settings There are three options to operate the display: via buttons next to the display by touching the touchscreen with the finger via speech recognition Button and touch operation Press to switch on the display...
Other information:
Tyre chains are only permitted on the front wheels. Always use fine mesh chains that add no more than 9 mm to the tyre tread and the inboard sides (including chain lock). Warning Damage may lead to tyre blowout. Tyre chains are permitted on tyres of size 185/65R15 and 195/55R16...
Position Warning Only drive with the head restraint set to the proper position. The upper edge of the head restraint should be at upper head level. If this is not possible for extremely tall people, set to highest position, and set to lowest position for small people...