Opel Corsa: Info Display / Radio (Infotainment system)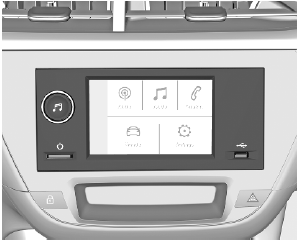 Press
to switch on the display.
Touch

to select system settings (units, language, time and date).
Touch

to select vehicle settings or driving functions.
Confirm a required function or selection by touching.
Touch
on the display to return to the previous page.
The illustrations show different variants of the infotainment system. Selecting menus and settings There are three options to operate the display: via buttons next to the display by touching the touchscreen with the finger via speech recognition Button and touch operation Press to switch on the display...
Other information:
The driver alert system monitores the driving time and the vigilance of the driver. Monitoring the vigilance of the driver is based on the trajectory variations of the vehicle compared to the lane markings. The system includes a driving time alert combined with driver drowsiness detection...
Depending on the vehicle configuration and the detected objects, there are several operational speed ranges. On vehicles equipped only with front camera, the active emergency braking operates from 5 km/h to 80 km/h when a vehicle has been detected...