Opel Corsa: Keys, locks / Electronic key system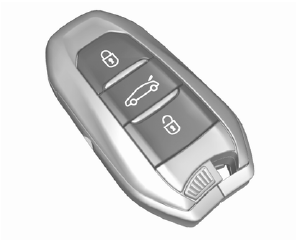 Enables, depending on version, a keyless operation of the following functions:
central locking system
ignition switching on and starting the engine
The electronic key simply needs to be on the driver's person.
Additionally, the electronic key includes the functionality of the radio remote control.
Handle with care, protect from moisture and high temperatures and avoid unnecessary operation.
Replacing battery in electronic key
Replace the battery as soon as the system no longer operates properly or the range is reduced.
In the event of a discharged battery,
illuminates in the instrument cluster and a warning message is displayed in the Driver Information Centre.

Batteries do not belong in household waste. They must be disposed of at an appropriate recycling collection point.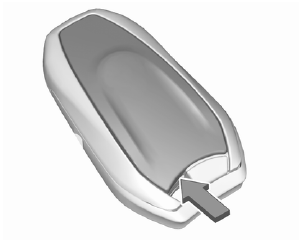 Remove the cover.
Extract the flat battery from its location.
Replace battery with a battery of the same type. Pay attention to the installation position.
Clip the cover in place.
Fault
If the central locking cannot be operated or the engine cannot be started, the cause may be one of the following:
Fault in electronic key.
Electronic key is out of reception range.
The battery voltage is too low.
Overload of the central locking system by operating at frequent intervals, the power supply is interrupted for a short time.
Interference from higher-power radio waves from other sources.
To rectify the cause of the fault, change the position of the electronic key.
Central locking system
Unlocks and locks doors, load compartment and fuel filler flap.
A pull on an interior door handle unlocks the respective door. Pulling the handle once more opens the door.
Note
In the event of an accident in which airbags or belt pretensioners are deployed, the vehicle is automatically unlocked.