Opel Corsa: Automatic transmission / Transmission display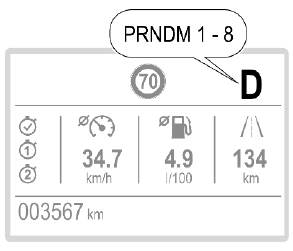 In automatic mode, the driving programme is indicated by D.
In manual mode, M and the number of the selected gear is indicated.
R indicates reverse gear.
N indicates neutral position.
P indicates park position.
The automatic transmission permits automatic gearshifting (automatic mode) or manual gearshifting (manual mode). Manual shifting is possible in manual mode by pressing M on the selector wheel and shifting with the paddles + and - on the steering wheel...
Move the selector lever or press the respective buttons as shown in the illustration above. P : park position, front wheels are locked, engage only when the vehicle is stationary and the parking brake is applied R : reverse gear, engage only when the vehicle is stationary N : neutral D : automatic mode M : manual mode : upshift in manual mode : downshift in manual mode The selector lever ..
Other information:
Trailer loads The permissible trailer loads are vehicle and engine-dependent maximum values which must not be exceeded. The actual trailer load is the difference between the actual gross weight of the trailer and the actual coupling socket load with the trailer coupled. The permissible trailer loads are specified in the vehicle documents. In general, they are valid for gradients up to 12..
Exterior light illuminates green. Low beam illuminates green. High beam illuminates blue. High beam assist illuminates green. LED headlights illuminates and a warning message is displayed in the Driver Information Centre. Front fog lights illuminates green. Rear fog light illuminates yellow...