Opel Corsa: Automatic transmission / Transmission display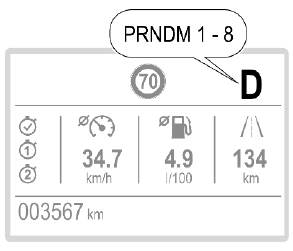 In automatic mode, the driving programme is indicated by D.
In manual mode, M and the number of the selected gear is indicated.
R indicates reverse gear.
N indicates neutral position.
P indicates park position.
The automatic transmission permits automatic gearshifting (automatic mode) or manual gearshifting (manual mode). Manual shifting is possible in manual mode by pressing M on the selector wheel and shifting with the paddles + and - on the steering wheel...
Move the selector lever or press the respective buttons as shown in the illustration above. P : park position, front wheels are locked, engage only when the vehicle is stationary and the parking brake is applied R : reverse gear, engage only when the vehicle is stationary N : neutral D : automatic mode M : manual mode : upshift in manual mode : downshift in manual mode The selector lever ..
Other information:
Remove the protective cover by pulling. Rotate the bulb socket anticlockwise to disengage and withdraw from the reflector. Insert the new bulb socket into the reflector housing. Fit the protective cover on. ..
The electronic key or smart access device must be inside the vehicle. Engine start Operate the clutch pedal (manual transmission), the brake pedal and press Start/Stop. Ignition on power mode without starting the engine Press Start/Stop without operating clutch or brake pedal. Control indicators illuminate and most electrical functions are operable. Engine and ignition off Press Start/Stop ..