Opel Corsa: Automatic transmission / Transmission display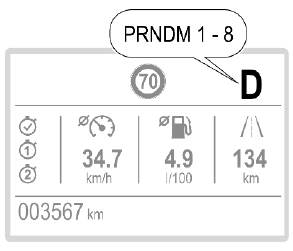 In automatic mode, the driving programme is indicated by D.
In manual mode, M and the number of the selected gear is indicated.
R indicates reverse gear.
N indicates neutral position.
P indicates park position.
The automatic transmission permits automatic gearshifting (automatic mode) or manual gearshifting (manual mode). Manual shifting is possible in manual mode by pressing M on the selector wheel and shifting with the paddles + and - on the steering wheel...
Move the selector lever or press the respective buttons as shown in the illustration above. P : park position, front wheels are locked, engage only when the vehicle is stationary and the parking brake is applied R : reverse gear, engage only when the vehicle is stationary N : neutral D : automatic mode M : manual mode : upshift in manual mode : downshift in manual mode The selector lever ..
Other information:
Danger Before refuelling, switch off ignition and any external heaters with combustion chambers. Follow the operating and safety instructions of the filling station when refuelling. Danger Fuel is flammable and explosive. No smoking. No naked flames or sparks. If you can smell fuel in your vehicle, have the cause of this remedied immediately by a workshop. A label with symbols at the fuel..
Basic setting for maximum comfort: Press AUTO, the air distribution and fan speed are regulated automatically. Open all air vents to allow optimised air distribution in automatic mode. Air conditioning must be activated for optimal cooling and demisting. Press A/C to switch on air conditioning. The LED in the button indicates activation. Set the preselected temperatures for..