Opel Corsa: Automatic transmission / Transmission display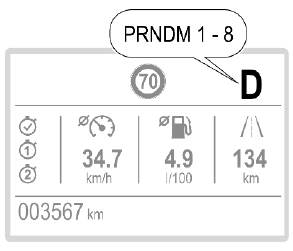 In automatic mode, the driving programme is indicated by D.
In manual mode, M and the number of the selected gear is indicated.
R indicates reverse gear.
N indicates neutral position.
P indicates park position.
The automatic transmission permits automatic gearshifting (automatic mode) or manual gearshifting (manual mode). Manual shifting is possible in manual mode by pressing M on the selector wheel and shifting with the paddles + and - on the steering wheel...
Move the selector lever or press the respective buttons as shown in the illustration above. P : park position, front wheels are locked, engage only when the vehicle is stationary and the parking brake is applied R : reverse gear, engage only when the vehicle is stationary N : neutral D : automatic mode M : manual mode : upshift in manual mode : downshift in manual mode The selector lever ..
Other information:
The system performance may be affected by: a dirty or foggy windscreen or if the windscreen is affected by foreign objects, e.g. stickers close vehicles ahead banked roads winding or hilly roads road edges sudden lighting changes adverse environmental conditions, e.g. heavy rain or snow vehicle modifications, e.g. tyres Switch off the system if the system is disturbed by tar marks..
The menus and functions can be selected via the buttons on the indicator lever. Turn the adjuster wheel to select a page in the trip / fuel information menu. Press SET / CLR to confirm or reset a function. Vehicle and service messages are popped up in the Driver Information Centre, if required. Scroll messages by turning the adjuster wheel. Confirm messages by pressing SET / CLR...