Opel Corsa: Automatic transmission / Transmission display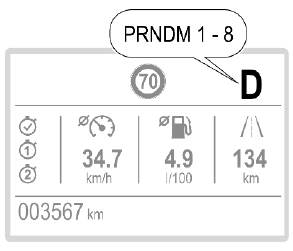 In automatic mode, the driving programme is indicated by D.
In manual mode, M and the number of the selected gear is indicated.
R indicates reverse gear.
N indicates neutral position.
P indicates park position.
The automatic transmission permits automatic gearshifting (automatic mode) or manual gearshifting (manual mode). Manual shifting is possible in manual mode by pressing M on the selector wheel and shifting with the paddles + and - on the steering wheel...
Move the selector lever or press the respective buttons as shown in the illustration above. P : park position, front wheels are locked, engage only when the vehicle is stationary and the parking brake is applied R : reverse gear, engage only when the vehicle is stationary N : neutral D : automatic mode M : manual mode : upshift in manual mode : downshift in manual mode The selector lever ..
Other information:
Speedometer Indicates vehicle speed. Odometer The total recorded distance is displayed in km. Trip odometer The recorded distance since the last reset is displayed in the Driver Information Centre. Two trip odometer pages are selectable in the trip / fuel information menu for different trips. Trip odometer counts up to 9,999 km. Press SET / CLR for 2 seconds to reset the trip odometer. ..
Locks The locks are lubricated at the factory using a high quality lock cylinder grease. Use a de-icing agent only when absolutely necessary, as this has a degreasing effect and impairs lock function. After using a de-icing agent, have the locks regreased by a workshop. Washing The paintwork of your vehicle is exposed to environmental influences. Bird droppings, dead insects, resin, polle..