Opel Corsa: Wheels and tyres / Tread depth
Check tread depth at regular intervals.
Tyres should be replaced for safety reasons at a tread depth of 2-3 mm (4 mm for winter tyres).
For safety reasons, it is recommended that the tread depth of the tyres on one axle should not vary by more than 2 mm.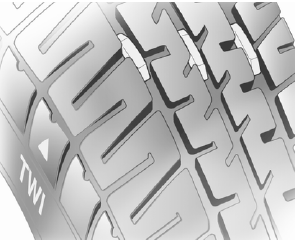 The legally permissible minimum tread depth (1.6 mm) has been reached when the tread has worn down as far as one of the tread wear indicators (TWI). Their position is indicated by markings on the sidewall.
If there is more wear at the front than the rear, swap round front wheels and rear wheels periodically. Ensure that the direction of rotation of the wheels remains the same.
Tyres age, even if they are not used. We recommend tyre replacement every 6 years.