Opel Corsa: Exterior lighting / Headlight flash. Headlight range adjustment. Headlights when driving abroad. Daytime running lights
Headlight flash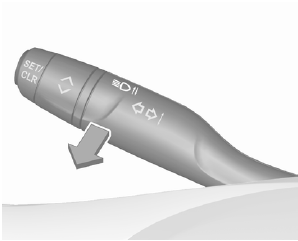 Pull to activate the headlight flash.
Headlight range adjustment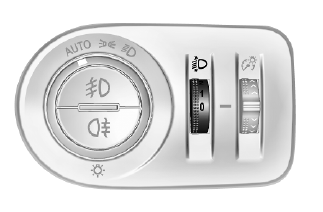 To adapt headlight range to the vehicle load to prevent dazzling, turn thumb wheel

to required position.
0 : front seats occupied
1 : all seats occupied
2 : all seats occupied and load compartment laden
3 : driver's seat occupied and load compartment laden
Headlights when driving abroad
When driving in countries where traffic drives on the opposite side of the road, the headlights do not have to be adjusted.
Daytime running lights
Daytime running lights increase visibility of the vehicle during daylight. They are switched on automatically when the engine is running.
The system switches between daytime running lights and low beam automatically, depending on the lighting conditions.
High beam Push to switch from low to high beam. Push again to deactivate high beam. High beam assist This feature activates the high beam when driving in dark surroundings and the vehicle speed is faster than 45 km/h...
The Matrix-LED headlight system contains a variety of particular LEDs in each headlight which enables the control of the adaptive forward lighting functions...
Other information:
Electronic control units are installed in your vehicle. Control units process data which is received by vehicle sensors, for example, or which they generate themselves or exchange amongst themselves. Some control units are necessary for the safe functioning of your vehicle, others assist you while you drive (driver assistance systems), while others provide comfort or infotainment functi..
Winter tyres Winter tyres improve driving safety at temperatures below 7 °C and should therefore be fitted on all wheels. In accordance with country-specific regulations, affix the speed sticker in the driver's field of view. All tyre sizes are permitted as winter tyres. Tyre designations E.g. 225/55 R 18 98 V 225 : tyre width, mm 55 : cross-section ratio (tyre height to tyre width), % ..